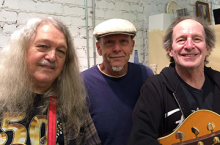 Sunday, September 16
2:00- 3:00 p.m.
Busey-Mills Reading Room (First Floor)
For all ages
Come enjoy the music of this talented veteran trio: Tom Brewer (vocals), Matt Stewart (guitar), and Bob Watson (guitar). Their music began in the middle ground between Ray Charles Sings Country & Western and Willie Nelson's Stardust, and includes some classic R&B and New Orleans standards.
Copies of Tom's newly released CD HOLY MOLY will be available for purchase.
UFLive! concerts are generously sponsored by The Urbana Free Library Foundation and are scheduled on the third Sunday of most months.