Sunday, June 25
2:00 - 3:00 p.m.
For adults
MacFarlane-Hood Reading Room (First Floor)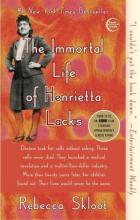 Enjoy narrative nonfiction chosen especially for UFL Reads! by moderator/librarian Mary Wilkes Towner.
The Immortal Life of Henrietta Lacks
by Rebecca Skloot
Henrietta Lacks was an African American woman whose cancer cells became a vital tool in medical research. The best of science writing combines with true life tales to create a riveting account of her life and family, plus ethical controversy.
UFL Reads! our book club for adults, meets the 4th Sunday of most months.