Sunday, April 23
2:00 - 3:00 p.m.
MacFarlane-Hood Reading Room (First Floor)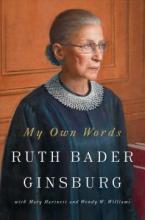 Explore an intriguing collection of recent, acclaimed memoirs—titles that highlight an author's personal reminiscences, experiences, and observances.
My Own Words
by Ruth Bader Ginsburg
Embark on a complex and exciting intellectual tour of the life of a Supreme Court Justice – told in her own words. From law and opera to gender equality and political intrigue, this is a story of impressive insight, perseverance, wry humor, and the personal side of a national hero.
UFL Reads!, our book club for adults, meets the fourth Sunday of most months.