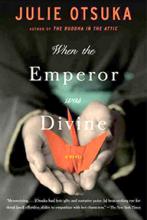 Sunday, October 22
2:00 - 3:00 p.m.
MacFarlane-Hood Reading Room (First Floor)
For adults
Share in The Community Read, a program sponsored by The YWCA of the University of Illinois.
When the Emperor Was Divine
by Julie Otsuka
This novel vividly portrays the struggles of a Japanese-American family sent to an internment camp in the Utah desert during World War II. The powerful story is based on the actual experiences of author Julie Otsuka's family.
UFL Reads! goes on hiatus after this discussion.
Stay in touch for future Urbana Free Library book club news!