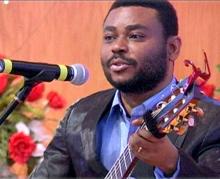 — Featuring —
Jean Rene Balekita and Bomoyi and
Spurlock Museum of World Cultures
Saturday, May 26 • 3:00 - 4:30 p.m.
Lewis Auditorium (Ground Floor) • For families
Join Jean Rene Balekita and Bomoyi for a world dance party to kick-off Reading Takes You Everywhere!  Enjoy crafts with Spurlock Museum of World Cultures, coral reef activities with Brandon Rutherford, and ice cream and lemonade.  Then, of course, sign-up for the Library's Summer Reading Program!
The concert is generously sponsored by Larry and Margaret Jobe in honor of grandsons Arlin and Berk Orr.
The Summer Reading Program is generously supported by the Friends of The Urbana Free Library.