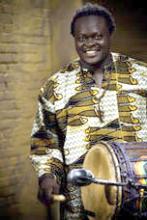 Friday, October 13
4:30 - 5:15 p.m.
Lewis Auditorium (Ground Floor)
Join us for a spirited, energetic, participatory drumming and dance performance for all ages. Every fall, a group of some of the most talented performance artists from West Africa come to Urbana for Midwest Mandeng, a festival celebrating West African drum and dance. In this performance, some of our artists will share traditional rhythms and dances and introduce you to the arts and culture of Guinea and Mali. A free all-ages event.
Presented in cooperation with the C-U West African Drum & Dance Collective's Midwest Mandeng 2017.