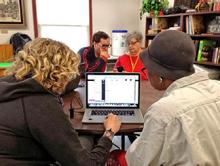 September 8 through November 17
Seeking help using a computer, tablet, phone, or similar device? Connect with a volunteer for FREE! Open to anyone age 50 and over, and to those under age 50 as time permits. Times and locations are listed below.
 
Douglass Branch Library
Fridays, 10:00 a.m. - Noon 
504 East Grove Street, Champaign
217-403-2090
Douglass Annex
Fridays, Noon - 1:00 p.m.
804 North 5th Street, Champaign
217-398-2572
Phillips Recreation Center 
Tuesdays, 2:00 - 4:00 p.m.
September 12, October 10, November 14  
505 West Stoughton Street, Urbana
217-367-1544
The Urbana Free Library
Fridays, 2:00 - 4:00 p.m.
210 West Green Street, Urbana
217-367-4057
Clark Lindsey Village (residents only)
3:00 - 4:00 p.m.
101 West Windsor Road, Urbana
 
Occasionally, Free Tech Help could be cancelled due to conflicts.
For more info, please contact the specific location or call 217-367-4057.
Volunteers are from the University of Illinois iSchool and the Illinois Informatics Institute.