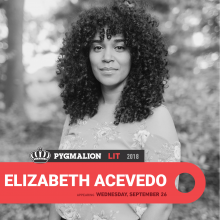 Wednesday, September 26 • 5:30 - 7:00 p.m.
Lewis Auditorium (Ground Floor) • All Ages
Elizabeth Acevedo, poet, National Slam Champion, and bestselling author of The Poet X, opens Pygmalion 2018 with a poetry reading and book signing.
Elizabeth Acevedo's visit is generously sponsored by The Urbana Free Library Foundation.
Books are available for sale now at the Library, and will be on sale the night of the reading.
For the full schedule of Pygmalion events see: www.thepygmalionfestival.com/schedule/