Wednesday, November 15
7:00 - 9:00 p.m. • For all ages
All the Crooked Saints debuted at #2 on the New York Times Young Adult Best Seller List!
 
Maggie Stiefvater, New York Times best-selling young adult author, will be visiting the Library to talk about her new book, All the Crooked Saints, and her hit series The Wolves of Mercy Falls and The Raven Cycle.
Her books range from werewolf love stories to legends about Cornish kings, but always at the heart are impossible dreams and the lengths we'll go to follow them.
Maggie Stiefvater has held many jobs, from portrait artist to wedding musician. Now she makes her living as an author, but she also draws and composes her own music. She even plays bagpipes.
A Q&A session and a book signing will follow her talk. Copies of her books will be available for purchase.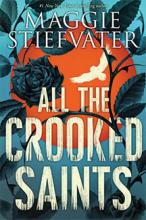 Enter to win a free copy of All the Crooked Saints, a front-row seat at the talk, and a spot at the front of the signing line.
There are three ways to enter:
Tweet us your favorite character from one of Maggie's books with the hashtag #TUFLMaggie.
Fill out and submit an entry form at the Library.
The contest begins Saturday, September 23, and ends on Wednesday, November 1. Winners will be contacted by Friday, November 3.
Paid for in part by the City of Urbana Arts Grant and with the support of The Urbana Free Library Foundation.