You can return most items in the bins located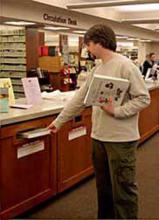 at either end of the circulation desk,
in the lobby, and
in the parking lot.
Anything you place in the parking lot return bins before the library opens will be checked in as if it were returned the previous day.
Students at Urbana Middle School and Urbana High School can return items to bins located at each school. During the school year, we collect items twice a week.
Kits, eReaders, tablets, equipment, and board games must be returned in person to the service desk from which they were checked out.
Late Fees
eReaders, mobile hotspots, and equipment - $1.00 per day per item
DVDs, video games, board games, and kits - 50¢ per day per item
Electronic devices for in-library use - 50¢ per hour per item
All other adult and teen materials and interlibrary loans - 20¢ per day per item
All other children's materials - 10¢ per day per item
The maximum fine is $20.00 for an eReader, $5.00 for a paperback book or magazine, or $10.00 for other items.
We also charge fees for the replacement of long overdue materials, damaged materials, and items returned with missing contents. Please note: Library fees of $50.00 and higher will be referred to a collection agency.
Payments
You can pay your library fees with cash, check, or credit/debit card at the circulation desk or you can log in to your CU Catalog account and conveniently pay your fees online 24/7.