Vol. 41, No. 9, September 2016
Archived Newsletters | Calendar of Library Events | Library Calendar (PDF)
Click on this link to sign up for e-notification of Library events, including the monthly newsletter.  Enter your first and last name; use the pull-down Event Type menu to select your notification preferences, and select Save.
---
September is National Library Card Sign-up Month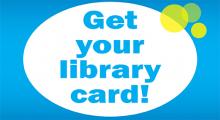 Mayor Prussing has proclaimed that September is Library Card Sign-Up Month in Urbana. Since you are reading this newsletter, it's likely that you already have an Urbana Free Library card. We need your help in getting other community members registered for Library cards, too. They are already paying their taxes, and we want the whole community to receive the benefits the Library provides.
Throughout the month of September, the Library will be out and about in the community and will present programs and events to raise awareness of the helpful and unique resources that are available at The Urbana Free Library.   We would love to visit you and your group, too. Email us at childrens@urbanafree.org or reference@urbanafree.org, or call us 217-367-4069 so we can make arrangements.
There are so many things you can do with your card in person and online – please come in or visit us at urbanafreelibrary.org to learn more.
Success starts at your public library – in person and online – and we hope to see you here soon!
Celeste Choate, Executive Director
217-367-4058
celeste@urbanafree.org
---
Shredding Event & Mini Recycling Fair with Senator Scott Bennett
Saturday, September 24 • 9:00 a.m. - Noon*
The Urbana Free Library and State Senator Scott Bennett are offering a Shredding Event to raise awareness of and to help prevent consumer fraud and identity theft.
Do you have old batteries or empty ink-jet cartridges?  You can also bring these for our Mini Recycling fair. The City of Urbana U-Cycle is partnering with the Library to recycle these items.
* The shredding event will end at noon or earlier if the shredding truck reaches capacity.
Location:
Parking lot on Cedar and Elm, just west of The Urbana Free Library. Enter from Elm Street.
Shredding Limit:
Two boxes per person. Residential shredding only (not for businesses) Please plan to take empty boxes home with you.
Mini-Recycling Fair:
Cell phone and chargers
Single use batteries--regular, lithium or rechargeable
     Please tape end terminals of the lithium and rechargeable batteries for safety
Thanks! AT&T for providing the shredding truck and staff. A big thank you to Blake Weaver for sharing his parking lot and to the City of Urbana Public Works and U-Cycle!
Presented by Senator Scott Bennett and The Urbana Free Library. For more information, please call 217-355-5252 or visit www.SenatorBennett.com
---
Friday, September 2 • 5:30 - 7:30 p.m.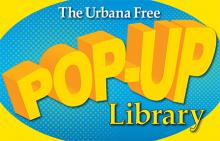 The Urbana Free Library is popping up where you least expect it. We're teaming up with Habitat for Humanity to create "Everybody's Living Room," an outdoor spot where we'll have cozy couches and chairs (Thanks, Habitat for Humanity!) and lots of great library stuff (including comics/graphic novels, Board Games, popular books, and more). Stop by "Curbana," (the sidewalk seating area just outside Pizza M / 208 West Main) and get a library card, check something out, or just relax and socialize.
Cosponsored by Habitat for Humanity of Champaign County and Restore and Imbibe Urbana
---
Champaign County Historical Archives Will Have New Hours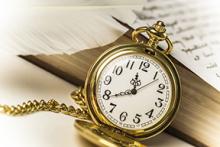 Earlier this year, the Champaign County Historical Archives measured public use during all service hours to assess whether the current schedule met the needs of the public. The three-month survey showed a distinct demand for afternoon hours.  At the recommendation of the Archives staff, the Board of Trustees of the Library voted on August 9, 2016 to change the Archives hours of service.
Beginning September 6, 2016, the hours will be:
10:00 a.m. - 6:00 p.m. | Monday, Tuesday, Thursday, Friday, Saturday
10:00 a.m. - 9:00 p.m. | Wednesday
1:00 p.m. - 5:00 p.m. | Sunday
We believe this change will better meet the needs of patrons who enjoy the local history and genealogy resources available at the Champaign County Historical Archives. Please visit us soon!
---
Saturday, September 24 • 1:30 - 3:00 p.m. • All Ages
Come celebrate the diversity of cultures that make up our community with an afternoon of music, food, art projects for children and special guests. This is a Welcoming Week event, part of a national week that brings together immigrants and U.S.-born residents in a spirit of unity.
We will also recognize the winners of the Immigrant Friendly Awards which are given to individuals and organizations that have created a welcoming atmosphere for immigrants in Champaign County.
1:00 - 2:00 p.m. | Get the Facts on Immigrants in Champaign County
(a workshop for anyone interested in learning more) with Susan Ogwal
2:00 - 2:30 p.m. | Socializing and Refreshments
2:30 - 4:00 p.m. | Awards Ceremony and Musical Performances
(activities for children will also be available)
Cosponsored by the Immigration Forum, University YMCA, The City of Urbana, The City of Champaign, Welcoming America and the Urbana Free Library
---
Musical Sounds of Fall
Prairie Breezes Presents Jean René Balekita and Bomoyi • Saturday, September 3 • 11:15 - 11:45 a.m.
Jean René Balekita and Bomoyi will share African rhythms with flavors of gospel, jazz, and Congolese rumba.
UFLive! presents Schlomo's Schleppers • Sunday, September 18 • 2:00 - 3:00 p.m.
The talented trio Schlomo's Schleppers are our UFLive! guests this month, playing Klezmer music. 
Live Performance by the Drummers of Sonic Liberation 8 • Saturday, September 24 • 11:15 - 11:45 a.m.
Join us for a rare chance to hear the dynamic folkloric drummers of the Afro-Cuban group Sonic Liberation 8.
Wednesday, September 14 • 3:00 - 5:30 p.m. • For teens
Have you ever wanted to make animation? Learn to make stop motion animation at the Teen Open Lab! Participants will make a short stop motion video with stuffed animals and learn to communicate essential story concepts with camera techniques, visual cues, plot twists and more.
What is the TOL? The Lewis Auditorium at The Urbana Free Library becomes the Teen Open Lab most Tuesday, Wednesday, and Thursday afternoons. Music recording, 3D printing, sewing, reading, drawing, crafting, gaming, film-making, or just hanging out. The Teen Open Lab has something for everyone!
---
Sunday, September 18 • 3:15 - 4:00 p.m. • All Ages
Prepare to be amazed, inspired and entertained when you hear storytelling favorites Dan Keding and Kath Brinkmann share stories of animal helpers from their new book Gift of the Unicorn and Other Animal Helper Tales for Storytellers, Educators and Librarians. Copies of their book and cds will be available for purchase.
---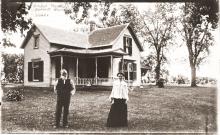 The Everett C. Block Collection, donated to the Champaign County Historical Archives in 2014, contains 254 glass plate negatives that document the families, houses, and farms of southeast Champaign County circa 1900-1905. Everett Block was not the original photographer of these glass plate negatives; however, he was the person who had the foresight to save, research, and share these pieces of history with others. Read more about the Block Exhibit.
 
---

On the fourth Saturday of each month (through October) from 8:00 a.m. to noon, Library staff will appear at Urbana's Market at the Square--the #1 Must-See Farmer's Market in Illinois!
At Read at the Market, you can sign up for a Library card, enjoy a story on the Magic Reading Carpet, learn about programs, services, and what is new and exciting at the Library.  You also can browse through a selection of books (and check one out) and pick up a free Read at the Market balloon.  This summer, we'll see you at the Library AND the Market at the Square.
Upcoming  Read at the Market dates are September 24 and October 22.
Read at the Market is sponsored by The Urbana Free Library in collaboration with the Market at the Square.