Vol. 41, No. 7, July 2016
Archived Newsletters | Calendar of Library Events | Library Calendar (PDF)
Click on this link to sign up for e-notification of Library events, including the monthly newsletter.  Enter your first and last name; use the pull-down Event Type menu to select your notification preferences, and select Save.
---
Thank you, Urbana Rotary Club!
Did you know that since 2000, Urbana Rotary Club #3294 has donated almost $30,000 to The Urbana Free Library? "Service above self" is the Rotary slogan, and we thank them for their service to our community. Individual Rotarians and their families have also supported the Library with personal gifts, and we thank them, as well.
Rotary focuses on six areas, and supporting education is one of these areas. We appreciate that the Urbana Rotary Club sees the Library as a natural partner in increasing literacy in our community.
The Club donated $25,000 to the Library's Building Fund for the 2005 building addition, which immediately increased the ways the Library serves our community.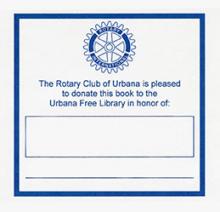 The other $5,000 has supported the Library's collections and programs over the years. When you see a bookplate like this, you have the Urbana Rotary Club to thank – and that is for over 50 books a year! We would not have the richness in our collection without the generosity of the Urbana Rotary Club and other donors.
A librarian uses Rotary funds to purchase children's books highlighting Rotary focus areas in ways that are relevant to children: stories about other cultures, literacy/education, clean water, promoting peace, and more. The books are brought to weekly Rotary meetings, where the guest speaker signs a book. The book is then added to the Library's collection for checkout.
If you would like to learn more about the good work the Urbana Rotary Club does in our community, please visit the website or join us for a meeting on Tuesdays from Noon - 1:00 p.m. at Clark-Lindsey.
Celeste Choate, Executive Director
217-367-4058
celeste@urbanafree.org
---

Summer Reading Programs for All Ages
This summer, make time to read the books you love and win prizes just for reading! Read books of your choice (including eBooks and audiobooks), and attend fun programs. Over 850 adults, teens, and children have already signed up!  Join us and get ready to Read for the Win!
Book prizes for the Summer Reading Program are funded by the Friends of The Urbana Free Library
---

On the fourth Saturday of each month (through October) from 8:00 a.m. to noon, Library staff will appear at Urbana's Market at the Square--the #1 Must-See Farmer's Market in Illinois!
At Read at the Market, you can enjoy a story on the Magic Reading Carpet, sign up for the Summer Reading Program, learn about programs, services, and what is new and exciting at the Library.  You also can browse through a selection of books (and check one out) and pick up a free Read at the Market balloon.  This summer, we'll see you at the Library AND the Market at the Square.
Upcoming  Read at the Market dates are July 23, August 27, September 24, and October 22.
Read at the Market is sponsored by The Urbana Free Library in collaboration with the Market at the Square.
---
Saturday, July 2 • 2:00 - 3:00 p.m. • Carle Park in Urbana • For all ages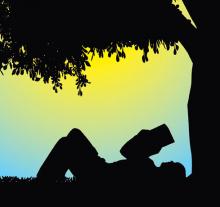 Bring your book and a blanket and join us at Carle Park in Urbana for one of life's best and simplest pleasures — reading!  After we've had a chance to read quietly for 45 minutes or so, there will be lemonade and cookies, and an opportunity to socialize with friends. All ages welcome!
The the next  Read in the Park is Saturday, August 6.
With special thanks to the Urbana Park District --22 parks, recreation programs, and more for Urbana!
---
Saturday, July 16 • 2:00 - 4:00 p.m. • For teens
Fulfill your high-flying dreams. Grab your broom, dodge the bludgers, and catch the snitch! Pick your house and join us for a Quidditch match that would make the World Cup proud.
---
Monday, July 11 • 6:30 - 7:30 p.m. • Busey-Mills Reading Room • For all ages
Kick back with the New Orleans Jazz Machine---the amazing local Dixieland sextet led by Carl Johnson on clarinet. Your spirits will be lifted and your toes will be tapping as you listen to NOJM's swinging New Orleans-style jazz.
---
The Friends of The Urbana Free Library Summer Book Sale
August 25 - 29 • Lewis Auditorium
Thursday, 5:00 - 8:30 p.m. (members only)
Friday & Saturday, 9:00 a.m. - 5:30 p.m.  (regular-price sale)
Sunday, 1:00 - 4:30 p.m. (half-price sale)
Monday, 9:00 a.m. - 1:00 p.m. (free giveaway)
You're invited to join hundreds of fellow treasure seekers at one of the most anticipated events of the season, the Friends of The Urbana Free Library Summer Book Sale.  Members of the Friends have access to a special preview on Thursday evening, August 25 (no electronic devices for scanning will be permitted on preview night). The Summer Book Sale will include a collection of aviation and military books donated by the Chanute Air Museum.
Not a member of the Friends of The Urbana Free Library? Join the Friends Online or Print a PDF Brochure.
Read for the Win! Children's Programs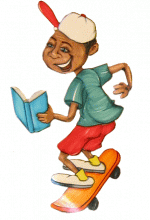 Enjoy the sounds of music at the Library as we sing and remember stories about an American folk singer at the Woody Guthrie Sing-along. Then make sure to bring your lunch for a fun, musical experience with a group of talented, young, and local musicians at the Bow-Dacious String Band Lunchtime Concert.
Do you love learning about animals and enjoy playing games? Then drop by for Animal Athletes! This hands-on program is an exciting way to learn about animal capabilities and adaptations. Or you can explore outer space at the Space Suit Program with Parkland Planetarium.
Looking for a good challenge? Library Olympics! will do just that with teamwork and creativity that will make this a fun-filled activity (plus, stay for some snacks).  After that, see how much you know about the 44 Americans who have been President of the United States when you come to play trivia at Know Your Presidents.
Join Sandy Osborne from the Museum of the Grand Prairie for Game On! Time Capsule to find out what winning and losing looks like during different time periods and in different cultures. And don't forget to stop in for the Happy Birthday Harry Potter party and celebrate the long-awaited release of the stage play Harry Potter and Cursed Child.
For dates, times, and a full description of these and all Library events, visit the e-calendar.
---
Friday, July 22 • 2:00 - 4:00 p.m. • For teens
Do you like the board game Clue? What about Ticket to Ride? Have you ever thought, "I could make that"? Well, now is the time to shine. Join us as we make fun and zany tabletop games.
---
Sunday, July 24 • 2:00 - 3:00 p.m. • For adults
It's an ongoing argument. Which is better? The book or the movie? Explore the novels behind recent motion pictures, so you'll be ready to make that decision.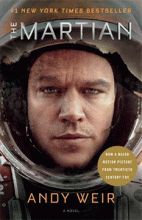 The Martian
by Andy Weir
Astronaut Mark Watney's mission to Mars takes a dark turn when a bad storm cuts him off from the rest of his crew, and they depart, thinking him dead. Stranded and injured, Mark is determined to survive until the next manned mission arrives. But how do you live without food, water, and air? Accessible science, humor, and impossible-to-put-down thrills abound as Mark conquers Mars.
UFL Reads! our book club for adults, meets the fourth Sunday of most months.
---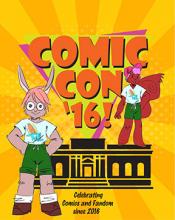 Saturday, August 13