Vol. 41, No. 5, May 2016
Archived Newsletters | Calendar of Library Events | Children's Program Calendar
Click on this link to sign up for e-notification of Library events, including the monthly newsletter.  Enter your first and last name; use the pull-down Event Type menu to select your notification preferences, and select Save.
---
Learning and Your Library
In a new Pew Research Center survey, 76% of adults say that their local public library serves the learning and educational needs of the local community well and 71% say that the local public library serves their family well. The study showed that people want to learn for different reasons: to make their lives fuller and more interesting, to enhance their work lives, to be able to assist others, and more.
Everyone can be a lifelong learner at The Urbana Free Library – no matter your age or how much you loved or didn't love school. As I heard someone say recently, "Libraries serve people from the cradle to the grave. And then there's genealogy…"
Speaking of Genealogy, be sure to attend the three Local History & Genealogy / National Preservation Month Lecture events themed: This Place Matters and the Local History & Genealogy Workshop: Land Platting by Metes & Bounds.
Attend the May 22nd Book Discussion Group to join in the age-old debate of whether the book or the movie Me Before You is best.
Learn as part of the community to Do It Yourself at the Library: April 30th: How Does Your Garden Grow and May 14th DIY – Bikes!
Sometimes you prefer to learn independently: Read how-to or consumer magazines – we offer both digital and print!  Dive into research with online resources!
And don't forget to visit us on May 28th to Read @ the Market during the Urbana Market at the Square to learn more about the Summer Reading Programs and other ways we can serve you!
Celeste Choate, Executive Director
217-367-4058
celeste@urbanafree.org
---

Summer Reading Programs for All Ages
May 21 – August 31
Register from Home or in the Library (beginning May 21)
This summer, make time to read the books you love and win prizes just for reading! Read books of your choice (including eBooks and audiobooks), and attend fun programs. Get ready to Read for the Win!
For Children
For children birth through grade 5 — those being read to and those who read on their own.
Each time you read at least 15 minutes, color in a square on your reading log.
Bring your completed log to the Library to receive a free book or other goodies.  
For each additional log you complete, you will receive more prizes!
For Teens
For teens who have completed grades 6 through 12.
Select books of your choice and keep track of the number of pages read.
After you read 1,000 pages, come to the Library to pick out a free book from our selection of new books.
The more you read, the better your chances are of winning prizes!
For Adults
For adults who love to read.  Why let kids have all the fun?
Read books of your choice and record your reading progress.  
After your read 4 books, stop by the Library to select a free book from our selection of popular books.  
Keep reading!  After August 14, anyone who has read an additional 4 books can select a second free book.
Book prizes are funded by the Friends of The Urbana Free Library
---
Saturday, May 21 •  3:00 - 5:00 p.m. • Cherry Alley* • For families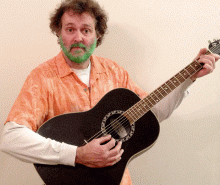 Enjoy live music with the incomparable Mr. Stephens who will be playing songs like Chicken Feet and Beware of the Dog. Don't miss sidewalk chalk, games, ice cream, and lemonade.
* If it rains, the event will move to the Lewis Auditorium.
This concert is generously sponsored by Larry and Margaret Jobe in honor of grandsons Arlin and Berk Orr.
---
Wednesday, May 4 •  6:00 - 7:00 p.m. • Lewis Auditorium • For families
Join us and others around the globe for Worldwide Star Wars Day and celebrate all things Star Wars. Come in costume if you wish, for trivia, games, crafts and general fun!
---
Saturday, May 28 • 8:00 a.m. - Noon • Urbana's Market at the Square

You can visit with Library staff at Read at the Market, a monthly event at Urbana's Market at the Square, located at the corner of Illinois and Vine Streets in downtown Urbana. Enjoy a story on the Magic Reading Carpet, learn about programs, services, and what's new on the shelves. We'll have unique activities each month for everyone in the family!
Read at the Market is sponsored by The Urbana Free Library in collaboration with the Market at the Square.
---
Chanute Air Museum Collection Coming to The Urbana Free Library!
The Chanute Air Force Base, located in Rantoul, opened in 1917 to train pilots for World War I.  For the next 76 years, the base stood as a premier technical training school for the United States Army Air Corps, and later the United States Air Force.
At the time of the Chanute Air Force Base closure in 1993, the base had trained more than two million men and women. Among those trained at Chanute in the 1940s, was the 99th Pursuit Squadron, the first unit of the Tuskegee Airmen (featured in the movie Red Tails, which is available for checkout at the Library!), a squadron solely made up of African-American personnel.
The Chanute Air Museum opened in 1994 to collect, preserve, exhibit, and interpret the history of the Chanute Air Force Base and Illinois aviation history. The museum closed in the fall of 2015. The museum staff moved quickly to identify appropriate heritage institutions to acquire the museum's most valuable artifact holdings, including flight simulators and over 30 airplanes.
The museum selected the Champaign County Historical Archives as the new home of its archival holdings, which include blueprints and maps for Chanute Air Force Base, base publications, oral histories, aerial photographs of the base, subject files, photographs, scrapbooks, over 200 videotapes, and archival donations from personnel connected to Chanute. We estimate that over 700 cubic feet of material will transfer to the Champaign County Historical Archives over the next few months.
Public access to the collection will not be possible at this time, but we will keep the public informed on when the material becomes available.  We also have plans to build into the Library's website a page that will feature highlights from the collection.
The Friends of The Urbana Free Library made a very valuable contribution to this project by donating the proceeds of their Spring Book Sale to cover the cost of moving the collection to The Urbana Free Library.  Thank you, Friends!
---
May is National Preservation Month
This year's theme from the National Trust for Historic Preservation is This Place Matters. During the month of May, the Urbana Historic Preservation Commission will present an unprecedented number of preservation events to shine the spotlight on some of the incredible places in our city.
Lecture: What Style is It? Understanding Architectural Styles in Urbana
Wednesday, May 11 • 7:00 - 8:00 p.m. • Lewis Auditorium • For adults
Lecture: Good Form: Understanding Vernacular Building Types in Urbana
Wednesday, May 18 • 7:00 - 8:00 p.m. • Lewis Auditorium • For adults
Lecture: History of Urbana's Antebellum Houses: Neighborhood Stories & Facts
Wednesday, May 25 • 7:00 - 8:00 p.m. • Lewis Auditorium • For adults
---
Rhythms of Spring
Compost Q - Improvisational Dance and Music
Saturday, May 7 • 2:00 - 3:00 p.m. • Busey-Mills Reading Room • For adults
Compost Q is a seasoned, multidimensional collective that brings improvisational music, composition, and dance to the Champaign-Urbana music scene.
A Special Performance by Bernard Woma: Master of the Ghanaian Xylophone
Tuesday, May 10 • 6:30 - 7:15 p.m. • Busey-Mills Reading Room • For all ages
This special performance features Bernard Woma, a nationally recognized master musician from Ghana who has toured the world as xylophonist and lead drummer of the National Dance Company of Ghana.
UFLive! presents the Kristin Sponcia Trio
Sunday, May 15 • 2:00 - 3:00 p.m. • Busey-Mills Reading Room • For all ages
Kristin Sponcia, jazz pianist and vocalist, performs unique arrangements of the Great American Songbook as well as her own compositions.
Cafe Concert with The Czerny Trio
Sunday, May 22 • 2:00 - 3:00 p.m. • Busey-Mills Reading Room • For all ages
Join us for a performance of two rare piano trios composed by Carl Czerny – pieces that have not been performed since the 1800s!
---
Saturday, May 14 • 2:00 - 3:30 p.m. • Lewis Auditorium • For all ages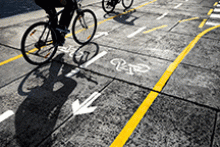 Join us for the second in our popular DIY series! Get ready for summer with a special program all about bikes. We'll kick things off with guests from the Bike Project. They'll give us a demo on ABC quick checks and tire changes. Champaign County Bikes will give us their best picks for summer bike rides near Urbana (including novice, challenging, and family-friendly). Next, we'll move outside and you can have a chance to do a hands-on ABC safety check on your own bike.
---
Thursday, May 12 • 6:00 - 8:00 p.m. • Jean Evans Archives Room
Get hands-on experience with presenter Candace Wilmot in platting land described by metes and bounds, the use of local landmarks to define the boundaries of property. This workshop is free, however, registration is required, 217-367-4025 or archives@urbanafree.org.
---

 Enjoy the student artwork from the Hua Nian Art Studio on display
May 8-22 in Children's Services on the ground floor. 
---