Vol. 41, No. 4, April 2016
Archived Newsletters | Calendar of Library Events | Children's Program Calendar
Click on this link to sign up for e-notification of Library events, including the monthly newsletter.  Enter your first and last name; use the pull-down Event Type menu to select your notification preferences, and select Save.
---
Volunteer Appreciation & Opportunities
Volunteers have been a critical part of the Library's success throughout the 141 years of The Urbana Free Library's history. You donate your valuable time, enthusiasm, leadership, skills, and fundraising efforts to the Library. You are our ambassadors into the community and we are grateful for your ongoing support: 2872 hours of volunteer time were given since March 1st of 2015!
A big thank you to:
And more!
We are publicly celebrating our volunteers on Saturday, April 9, at 2:00 p.m. at the Traditional Jazz Orchestra concert as part of the Boneyard Arts Festival.
If you would like to volunteer, here are two great opportunities:
The Library is looking for enthusiastic volunteers to share their talents and to explore new skills as a Library Garden Volunteer. Knowledge of basic garden skills is appreciated – but we can train you. You would help with the maintenance, watering, and weeding of the Library's renowned gardens, and we need you to commit to one hour, once per week. For more information, contact Eleanore at 217-367-4057 or email ebrown@urbanafree.org.
The Urbana Free Library Foundation Board encourages you to consider being a Board member. If you would like to be part of this team of library supporters, please call 217-367-4057 or email administration@urbanafree.org.
The Library could not be what it is today without our volunteers, and I thank you all for your time and commitment!
Celeste Choate, Executive Director
217-367-4058
celeste@urbanafree.org
---

The Boneyard Arts Festival @ Your Library
From music and dance programs to displays of creative works by local artisans, your Library can help to cure your spring fever with a healthy dose of the arts.   
 
Performances and Events on Saturday, April 9:
Exhibits and Displays:
To find out more about the Boneyard Arts Festival, and what unique activities will occur in downtown Urbana and surrounding areas, visit 40north.org. 
---
The Friends of The Urbana Free Library Spring Book Sale
March 31 - April 4 • Lewis Auditorium
Thursday, 5:00 - 8:30 p.m. (members only)
Friday & Saturday, 9:00 a.m. - 5:30 p.m.  (regular-price sale)
Sunday, 1:00 - 4:30 p.m. (half-price sale)
Monday, 9:00 a.m. - 1:00 p.m. (free giveaway)
You're invited to join hundreds of fellow treasure seekers at one of the most anticipated events of the season, the Friends of The Urbana Free Library Spring Book Sale.  Members of the Friends have access to a special preview on Thursday evening, March 31 (no electronic devices for scanning will be permitted on preview night).  The Spring Book Sale supports the addition of archival materials from the Chanute Air Base. 
Not a member of the Friends of The Urbana Free Library? Use THIS LINK to register online or download a membership form.  
Celebrate National Poetry Month
Dial-a-poem during National Poetry Month
April 1 - 30 • All day • For all ages
During National Poetry month, we invite you to call the adult services desk 217-367-4405 or children's question desk 217-367-4069, to hear a short poem.
Read My Lips! The Poetry Edition
Monday, April 11 • 7:00 - 8:30 p.m. • For adults
You're invited to step up to the mic and perform your own spoken word piece or read a poem that you think others should hear.
A Poetry Reading by the Quintessential Poets
Monday, April 18 • 7:00 - 8:00 p.m. • For adults
 "The Quints" are Frank Modica, Mary McCormack Deka, John Palen, Elaine Palencia, and Pat Simpson.
Spoken Word Series: Children's Poet and Songwriter Jeff Mondak
Sunday, April 24 • 2:00 - 2:45 p.m. • For families
Join local children's poet and songwriter Jeff Mondak as he reads poems from his new book The Toy Box Ate My Brother.
---
Enjoy the Music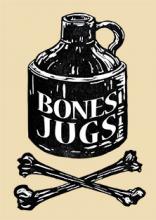 Cafe Concert: Bones Jugs
Sunday, April 3 • 2:00 - 3:00 p.m. • All ages
This eclectic, fun-loving group is highly influenced by jug and string bands and draws inspiration from many musical styles including blues, folk, bluegrass, ragtime, hip-hop, and more.
UFLive! presents Almost "A" Quintet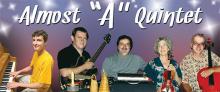 Sunday, April 17 • 2:00 - 3:00 p.m. • For families
Come enjoy lively anc eclectic insturmental music with Dorothy Martirano (violin), Armand Beaudoin (bass), George Turner (guitar), Sam Gingher (piano and melodica), and Ricardo Flores (percussion).
---
Local History & Genealogy Workshops and Events
Student & Community DIVESTment Protests in the 1980s
Thursday, April 7 • 7:00 - 8:30 p.m. • For Adults
Join a panel of former students involved in the Divest Now Coalition and the Champaign-Urbana Coalition Against Aparthied movement that occurred at the University of Illinois, and at campuses across the country, in the late 1970s and throughout the 1980s. 
Preserving Family Heirlooms
Saturday, April 16 • 1:00 - 4:00 p.m. • For Adults
This presentation by Jennifer Hain Teper will share the importance of preserving fragile family books, papers, and photographs, and provide introductory information on how to do so. Call 217-367-4025 to register.
Click here for information on upcoming Local History & Genealogy Workshops and Events.
---
Crafting Fun!
Maker Drop-In: Sewing, Embroidery, and More
Sunday, April 3 • 3:00 - 4:30 p.m. • All ages
Learn to sew with sewing machines and embroidery machines, Library staff, and the fablab! We'll have all the supplies and volunteers to help.
Earth Day Crafts
Saturday, April 16 • 11:00 - 11:45 a.m. • All ages
It's a little early, but we're ready to celebrate Earth Day with environmentally friendly crafts.
Art Lessons for Children -- Springtime Origami
Saturday, April 23 • 2:00 - 2:45 p.m. • For children ages 4 and up
Learn to fold flowers and make other springtime paper creations with Origami artists Ai-Ling and Yukimi. 
---
Saturday, April 30 • 12:30 - 1:15 p.m.
For ages 3 and up

Gardening isn't just for farmers! City folks can do it too! Bring your green thumb as we learn about Urban Gardening from some local experts, and start a mini-garden of your own in this hands-on program.
---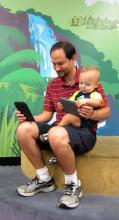 ---