Vol. 41, No. 2, February 2016
Archived Newsletters | Calendar of Library Events | Children's Program Calendar
Click on this link to sign up for e-notification of Library events, including the monthly newsletter.  Enter your first and last name; use the pull down Event Type menu to select your notification preferences, and select Save.
---
2016 is Going to Be Another Fabulous Year at The Urbana Free Library!
The Champaign County Historical Archives will celebrate its 60th anniversary this year. Be on the lookout for some great events including Town & Gown Series: CU Hoops - Playing, Coaching, and Reporting Basketball on February 18 at 7:00 p.m.
More fantastic programs─including What We Do When We Believe in Black Girls also on February 18 at 7:00 p.m.─ will connect you with other community members in learning and having fun!
New collections will be launched. Hands-on Literacy and Math Kits and the vinyl records and record players added in 2015 are checking out like hotcakes, and you'll see more new collections in 2016. What else would you like to see us circulate?
Look for an expansion of the 1,000 Books Before Kindergarten program which launched October 1, 2015.  Thirty-nine young readers have already completed 100 books. One super-reader has already logged 1,000 titles! Early literacy is key to success later in life and─and, of course, we can help reading be fun! If you would like Library staff to visit your preschool, classroom or organization, please let us know.
Long range planning─evaluation, replacement or repair of major building components─we will be working on our infrastructure to provide you the best Library experience we can.
If you have suggestions as to new materials, programs or services you would like to see in 2016, please let us know!
Celeste Choate, Executive Director
cchoate@urbanafree.org
367-4058
 
---
Giving Voice to Young, Black Girls
Read My Lips, Hear Our Truths
Monday, February 1 • 7:00 - 8:30 p.m.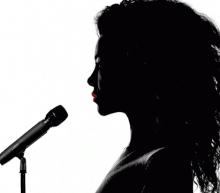 Hip hop artist Klevah Knox is our emcee extraordinaire for an evening of live readings by, for, and about Black women and girls. We've invited campus and community guests to step up to the mic to read a brief piece that has inspired, provoked, or spoken their truth.
What We Do When We Believe Black Girls
Thursday, February 18 • 7:00 - 8:30 p.m.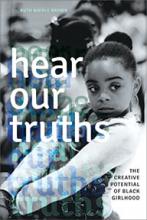 Come hear our special guests from the community and campus speak about their lives and experiences (Janice Marie Collins, Angela Williams, Jessica Robinson, Porshe Trotter, and Tiffany Harris). We'll be talking about what we can do to nurture and celebrate Black girls. We expect an evening of honesty, laughter, and some surprising insights…and we want to go home inspired.
---
Saturday, February 13 • 9:00 a.m. - 5:00 p.m.
Sunday, February 14 • 1:00 - 4:00 p.m.
All aboard! Railroad enthusiasts of all ages are welcome to one of the best N-gauge railroad displays in the area. Watch the trains, learn about railroad history, or browse through the Library's special display of railroad books. The Midwest Central Railroad Club Train Show is your destination for model railroading fun!
Co-sponsored by The Urbana Free Library and the Midwest Central Railroad Club
---
CU Hoops: Playing, Coaching, and Reporting Basketball
Thursday, February 18 • 7:00 - 8:30 p.m.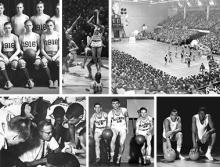 View basketball through the eyes of local players, coaches, and reporters as they share their memories of the sport.
Panel Moderator will be Kent Brown, University of Illinois Associate Director of Athletics, Media Relations.  Panel members include Tom Michael, Eastern Illinois University Athletic Director, and former University of Illinois Senior Associate Athletic Director; Lee Cabutti, Former Champaign Central High School Basketball Coach; and Fred Kroner, Former News-Gazette Executive Sports Editor. 
This event will take place at the University of Illinois Bielfeldt Athletic Administration Building, Hall of Fame Room, 1700 South Fourth Street, Champaign, IL.  
The Town & Gown Speaker Series is sponsored by the Student Life and Culture Archives at the University of Illinois and the Champaign County Historical Archives. Each event in the series will highlight a topic of historical significance to the campus and the community.
---
Saturday, February 20 • 11:15 - 11:45 a.m.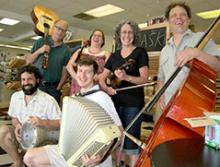 Join us for the tunes and harmonies of Klezmer music, in the spirit of early Eastern Europe's Jewish village string bands. Other surprises will be thrown in the mix and dancing is always encouraged!  For music lovers of all ages. 
Prairie Breezes concerts are scheduled on the first Saturday of most months and are generously sponsored by Peggy and Bob Podlasek in memory of Greg Bliss
---
Sunday, February 21 • 2:00 - 3:00 p.m.
The repertoire of this lively instrumental jazz group combines Latin, classic standards, fusion, contemporary, and original material. The lineup for this special event features the smooth sounds of vibraphone, guitar, bass, and drums as played by Kevin Hart, George Turner, Mikel Combs, and Tom Marko.
UFLive! concerts are generously sponsored by The Urbana Free Library Foundation and are scheduled on the third Sunday of most months.
---
Add Creativity to Your Life @ Your Library
Art Lessons for Children: The Year of the Monkey
Saturday, February 6 • 12:00 - 12:45 a.m.
Children ages 4 and up can celebrate the Chinese New Year with drawings and stories all about monkeys.
Valentine Card Make and Take for All Ages
Thursday, February 11 • 6:30 - 7:30 p.m.
Drop by to make a card for your favorite Valentine.   For creative individuals ages 4 to 104 years.
Valentine's Day Maker Party
Sunday, February 14 • 2:00 - 3:30 p.m.
Make a Valentine's Day creation for your sweetie (or yourself!) This event is open to teens and adults.
50 Shades of Creativity: Coloring for Adults
Saturday, February 20 • 4:00 - 5:00 p.m.
Coloring for adults is the new, popular way to relax and get creative. Drop in and bring a friend!
Crafty Story Time
Monday, February 22 • 6:00 - 7:00 p.m.
Children ages 2 – 6, and their families, can enjoy stories, songs, and a simple craft.
---
Introducing a Fast and Convenient Way to Pay Your Library Fees 24/7
Log in to your account through CU Catalog
Use PayPal, PayPal Credit, Visa/MasterCard, American Express or Discover (minimum charge = $2.00)
The Library uses PayPal to process all online payments, but a PayPal account is not required
You can access your Library account 24 hours a day.  Just enter the barcode number printed on your Library card and your password (usually the last four digits of your phone number), or you can create a username for easier login.  Click here to discover what other convenient features you can use once you are logged into your account.  
---
Friday, March 11 • 6:00 - 9:00 p.m.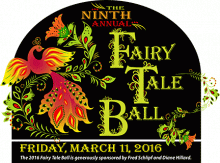 Fairy tale lovers of all ages are invited to an evening of stories, crafts, dancing, games, and entertainment. Don your shiny suit of armor, sparkly ball gown, or dress like your favorite fairy tale character and join us for an evening of fantasy and frivolity!
Royal performers and activities include:
Storyteller Anne Shimojima
Clothespin puppet performances
Fortune teller Madame Zitron
The Royal Alchemist
Juggler, storyteller, and singer Joe Reichlin
The Central Illinois English Country Dancers and Flatland Consort
International fairy tales
Costumed characters
Courtly crafts
Tournament games
Pink flamingo croquet
Take a pause from the medieval mayhem in the Sleepy Hollow Room
The Ninth Annual Fairy Tale Ball is generously sponsored by Fred Schlipf and Diane Hillard