Vol. 40, No. 12 December 2015
Archived Newsletters | Calendar of Library Events | Children's Program Calendar
Click here to sign up for e-notification of library events, including the library's monthly newsletter. Enter your first and last name, use the pull down Event Type menu to select your notification preferences, select Save and you're done!
---
The Weather Outside is Frightful...
I don't know about you, but the recent cold weather has me wanting to stay at home cuddled up with a hot cup of tea and a good book - or a Nook full of books!
Or, if you prefer, visit the Library Cafe and settle in with a beverage at the Library. We can help you find just the right titles for whatever reading mood you are in - we love to talk about books - and videos and music, too.
Library cardholders who are physically unable to visit the library may qualify for our home delivery service. With this service, items are selected for you based on your interests and delivered to your home each week. /adults/home-delivery
Or you can download ebook and magazine titles from wherever you are: http://urbanafreelibrary.org/categories/e-resources.
Readers, we have you covered. So use your Library, go grab that hot beverage, and enjoy a good read.
Celeste Choate, Executive Director
cchoate@urbanafree.org
367-4058
---
Support the Foundation's Annual Campaign
Despite ongoing challenges, The Urbana Free Library continues to work to better serve our community, in many different ways. And now we could use your help.
First, some of The Urbana Free Library's accomplishments: Over the past year, more than 804,000 Library materials were checked out by residents, putting us in the top 10 percent nationally among libraries with a comparable budget.  And a whopping 30,000 residents took part in Library programs.
One of those programs was the eighth annual Fairy Tale Ball, held on April 17 and attended by more than 1,600 residents. Many of the attendees were parents and children garbed in spectacular fairy tale costumes.  It was quite a sight!
Teens are among our most avid patrons, with over 7000 taking advantage of the Teen Open Lab since 2013.  Held Tuesday through Thursday afternoons on most weeks, the after-school program introduces teens to new skills, such as music and video production, digital art, and 3-D printing.
We've initiated new programs, including 1,000 Books Before Kindergarten, a year-round reading program to help start young children on the path to success.  The Library has also added new and innovative circulating collections, including hands-on literacy and math kits for children, and a brand new vinyl LP record collection, with both new and classic titles.
As you can see, we do a lot!  But great libraries don't just happen on their own.  Please consider giving to The Urbana Free Library Foundation's annual fund-raising campaign.
Read more about the Foundation's Annual Campaign
---
Sunday, December 13 • 1:30 - 2:30 p.m. • MacFarlane-Hood Reading Room
Join coders all over the world, for a celebration of computer programming during an Hour of Code. This is an all-ages event for anyone who would like to learn about coding.
What if I don't know anything about computer programming? We'll have fun activities and tutorials for all skill levels, including games to learn about coding or more advanced tutorials for using JavaScript or creating apps for phones/tablets and volunteers to answer your questions.
What if I'm already an experienced coder? Bring your laptop and current project and join us for the celebration!
What should I bring? You can bring your own laptop or tablet, or you can use one of the Library's computers.
Who can come? All ages are welcome, including adults and families.
---
Thursday, December 3 • 6:30 - 7:30 p.m.
Experience the magic of Chris Van Allsburg's award-wining picture book with our special guest reader Matt Metcalf of WCIA! Activities will include crafts and a bedtime snack. Get in the spirit of the story and come dressed in your pajamas.  For children and their families.
 
Copyright © 1985 by Chris Van Allsburg. All rights reserved.
---
Ho! Ho! Ho! Holiday Programs
Winter Holidays Program
Saturday, December 5 • 2:00 - 3:00 p.m.
Enjoy activities celebrating Chanukah, Kwanzaa, St. Nicholas Day, and the Winter Solstice.  For children and their families.
Candy Christmas Trees
Saturday, December 12 • 11:00 - 11:45 a.m.
Have fun with stories and songs about Christmas trees, and then make your own yummy, candy Christmas tree to take home.  For children and their families.
All Ages Homemade Gifts
Saturday, December 12 • 2:00 - 3:00 p.m.
It's the holiday season! Come make a homemade gift for a loved one in your life.  For craft lovers from ages 4 to 104.
Santa Paws
Sunday, December 13 • 3:30 - 4:30 p.m.
Take a "paws" from the seasonal rush to read with some furry, four-footed friends and make some crafts. For children of all ages and their families.
Art Lessons for Children: Holiday Origami
Saturday, December 19 • 2:00 - 2:45 p.m.
Ailing and Yukimi, two local origami artists, will help you make holiday-themed creations to take home or give as gifts.  For children in elementary school and their families.
Noon Year's Eve
Thursday, December 31 • 11:30 a.m. - 12:30 p.m.
Come celebrate with us! We will count down to noon and ring in the New Year with stories, food, and fun.  For children and their families.
 
---
Saturday, December 5 • 11:15 - 11:45 a.m. • Lewis Auditorium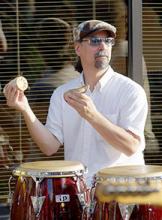 Join percussionist Jason Finkelman as he explores rhythm and beats using musical instruments, found objects, and interactive improvisation. Jason specializes in the berimbau, an Afro-Brazilian musical bow, and has a special interest in exploring improvised music with unusual instrumentation. His artistic concerns have focused primarily on the performance of improvised music and composition for dance, theater, and film.  For children and their families.
Prairie Breezes concerts are scheduled on the first Saturday of every month and are generously sponsored by Peggy and Bob Podlasek in memory of Greg Bliss.
Photo credit Kelly White
---
Sunday, December 20 • 2:00 - 3:00 p.m. • Busey-Mills Reading Room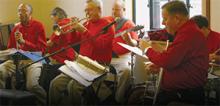 Escape the winter blues with the amazing local Dixieland sextet led by Carl Johnson on clarinet. Your spirits will be lifted and your toes will be tapping as you listen to New Orleans Jazz Machine's swinging New Orleans-style jazz.
UFLive! concerts are scheduled on the third Sunday of most months. This month's concert is generously sponsored by Bob and Bonnie Switzer.
---
What's New @ the Champaign County Historical Archives?
A New Exhibit
In honor of the 120th anniversary of the Cunningham Children's Home, the Champaign County Historical Archives has created a new exhibit celebrating the Home and its founders Joseph Oscar and Mary Cunningham.  On Thanksgiving Day 1894, the Cunninghams donated their beloved home of a quarter century and 15 acres of surrounding property to the Woman's Home Missionary Society of the Illinois Conference Methodist Episcopal Church. On October 25, 1895, the doors to the Cunningham Deaconess Home and Orphanage officially opened.  The exhibit looks at the history and development of the Home and the contributions of the Cunninghams, early Urbana settlers, to the community.
A New Database
MyHeritage Library Edition is the latest addition to the Champaign County Historical Archives' array of resources to aid in the research of local history and genealogy.  It's a global genealogy database that provides access to records from all over the world—including birth, death, military, and immigration.  Coverage starts from the 16th century and includes the United States and United Kingdom federal census, historical photographs, wills, government records, yearbooks, and passenger lists, among other resources.
The great thing about MyHeritage is that it is available remotely! Simply sign in with your Urbana Free Library patron barcode and away you go!
 
---
Young Artists' Exhibition • December 5 - 29
Children's Services (ground floor)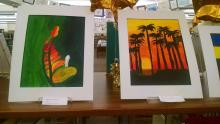 Image from the 2014 exhibit