Vol. 40, No. 6 June 2015
Archived Newsletters | Calendar of Library Events | Children's Program Calendar
To sign up for e-notification of library events, including the library's monthly newsletter, CLICK HERE. Enter your first and last name, use the pull down Event Type menu to select your notification preferences, select Save and you're done!
---
Expect the Unexpected
Books, audiobooks, music CDs, and, videos: You expect these at TUFL.
Did you know we also have Board Games, eReaders, downloadable books, and streaming music?
Building on the success of the Exploration Kits that are a part of our Resources for Math and Science Early Childhood Education, we are adding NEW hands-on literacy and math kits. Literacy is vital to lifelong success, and we know that people learn in different ways. Kinesthetic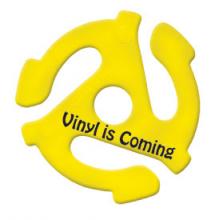 learning (movement) and tactile learning (touch) are two learning styles that can be used to compliment visual and auditory learning. The new kits will support these additional learning styles to enhance understanding as well as create enjoyable learning experiences. These kits are primarily designed for preschool through elementary school age children, and can be enjoyed by all ages.
Ready to go "old school"? Do you miss the pop and hiss of the record player needle making contact with the records? If so, it's time to celebrate: Vinyl is making a comeback! Soon, you can find new and classic titles on brand new quality vinyl records. The collection will be divided by genres, including: Classical, Blues, Country/folk/bluegrass, Hip Hop, holiday, International, Jazz, Movies & Shows, New Age, Reggae, Religious, Rock & Pop, and Soul/R&B.
If you have ideas for unexpected collections you would like the Library to offer, please let us know.
Celeste Choate, Executive Director
---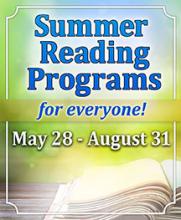 ---
Saturday, June 7 • 8:00 - Noon • Urbana's Market at the Square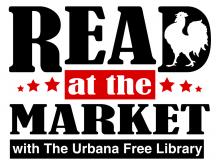 This summer you can visit with Library staff at Read at the Market, a monthly event at Urbana's Market at the Square, located at the corner of Illinois & Vine Streets in downtown Urbana. You can sign up for the Summer Reading Program, enjoy a story on the Magic Reading Carpet, learn about programs, services, and what is new and popular at the Library. We will have unique activities each month for everyone in the family!
On June 6, sign up for the 2015 Summer Reading Program and discover what summertime fun programs the Library has on the calendar.  See you at the Market!
Read at the Market is sponsored by The Urbana Free Library in collaboration with the Market at the Square.
---
Monday, June 1 • 7:00 - 8:00 p.m. • Busey-Mills Reading Room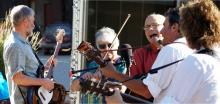 Big Bluestem string band performs a broad array of musical styles and songs from bluegrass breakdowns and country heart songs to mining ballads, Cajun laments, and cowboy blues. The band takes their name from the tall native prairie grass that used to cover most of Illinois.
The five-member acoustic ensemble features Kathleen Everingham (fiddle), Jose Agusti (guitar), Rebecca Grosser (guitar), Drew Phillips (mandolin), and Todd Kinney (bass).
---
Tuesday, June 23 • 5:00 - 6:30 p.m. • Lewis Auditorium
Confused about utility choices? Join us for a free utility bill clinic hosted by Senator Scott Bennett and the Citizens Utility Board.
We are hosting experts from the Citizens Utility Board to conduct a free clinic where local consumers can learn ways to reduce their gas, electric and landline telephone bills. The event will feature one-on-one analysis from CUB experts on gas, electric and landline phone bills, information on spotting billing errors and incentives designed to help people improve energy efficiency.
Please register to allow us to accommodate all participants.
---
Read to the Rhythm with Children's Programs
(All programs in the Lewis Auditorium)
Percussion Petting Zoo
Sunday, June 7 • 3:00 - 4:00 p.m.
Children of all ages
Get your hands on some musical when The Urbana Pops Orchestra will bring their instruments to the Library.
Come Sing With Me
Thursday, June 18 • 11:00 - 11:30 a.m.
Sing some favorite children's songs with Sarah and Janet.  
Catch the Rhythm
Friday, June 19 • 11:00 - 11:45 a.m.
Children ages 4 and up
Try out your skills as a percussionist with Jason Finkelman.  
Community Center for the Arts Music Camp Concert
3:30 - 4:00 p.m. • Families
Violinists and cellists, ages 5 to 11, will perform folk songs from around the world.
For information about more programs for children and their families, visit the Library's e-calendar. 
---
Escape the Ordinary with Teen Programs
(All programs in the Lewis Auditorium)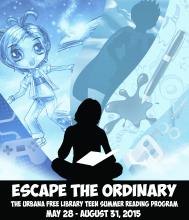 Urbana Otaku Manga Club + Donuts = YUM!
Friday, June 5 • 4:00 - 5:00 p.m.
It's National Donut Day!  At this delicious monthly meeting, we'll celebrate all things manga!
Got Ink?  (@ Teen Open Lab)
Wednesday, June 10 • 3:00 - 5:30 p.m.
Celebrate the 1943 patent of the ballpoint pen by doodling and drawing with this handy invention.   
Superman Celebration (@ Teen Open Lab)
Thursday, June 11 • 3:00 - 5:30 p.m.
It's a bird!  It's a plane! It's our special Superman celebration!
Spoken Word Series: Teen Authors
Friday, June 26 • 1:00 - 1:45 p.m.
Teens from Amy Hassinger's Summer Young Writer's Studio will share their works-in-progress. 
For more information about programs for teens and their families, visit the Library's e-calendar. 
 
---
Sunday, June 21 • 2:00 - 3:00 p.m. • Busey-Mills Reading Room
Almost "A" features some of the most talented and in-demand performers in the area: Dorothy Martirano (violin), Armand Beaudoin (bass), George Turner (guitar), Sam Gingher (piano & melodica), and Ricardo Flores (percussion). The musicians have strong and diverse backgrounds in classical, contemporary art music, jazz, and Latin jazz with folk, gypsy, gypsy jazz, tango, and klezmer.
UFLive! concerts offer a diverse lineup of local performers and are scheduled on the third Sunday of most months.
 
---
DISCONTINUED