Vol. 40, No. 1 January 2015
Archived Newsletters | Calendar of Library Events | Children's Program Calendar
To sign up for e-notification of library events, including the library's monthly newsletter, CLICK HERE. Enter your first and last name, use the pull down Event Type menu to select your notification preferences, select Save and you're done!
---
Calling Readers & Writers, Listeners & Viewers,
Makers & Doers of All Ages: Come Celebrate With Us!
Celebrate reading and writing:
This month, we launch a Winter Reading program for children through grade 5.
Celebrate listening and viewing:
Celebrate making & doing:
The Teen Open Lab is open to students in grades 6 - 12 who want to hang out in a cool teen space with sewing machines, vinyl cutters, a 3-D printer, sound and film-making equipment, and more!.
Families wanting to try out the sewing machines can visit January 17 for the Family Sewing Circle.
Art lessons for kids? Want to play board games? We've got that, too!
Visit us or check out our full calendar of events to see all of the different ways you can celebrate at your Library. We hope to see you soon!
Celeste Choate, Executive Director
cchoate@urbanafree.org
367-4058
---

 
Celebrating 140 Years With Adult Services
As we celebrate the Library's 140th birthday, we have been highlighting all of the departments and services that make The Urbana Free Library special. In January 2015, it will be Adult Services' turn.  Here are a few things you might like to know about Adult Services and the resources we are happy to make available for you: 
The adult and teen collection contains more than 150,000 books, 20,000 CDs, 15,500 DVDs, and 3,300 audiobooks and fills two floors. 
The Library's collection of music and movies is one of the best in the area.  Some highlights--the international folk music CDs, international language films, and documentaries.
---
Coffee Break eBooks

Sunday, January 4 and Tuesday, January 6 • 1:00 - 4:00 p.m.
The Urbana Free Library Cafe and Friends Book Shop
Did you know that you could download and read free eBooks with your Urbana Free Library card? Many popular titles are available including bestsellers, award winners, and many eBooks for children and teens.
Stop by the round table near the Library cafe to meet with staff who can help you try out the library's eBook services.  Bring your own device and we will help you get started.
---
Two Opportunities to Visit with Pens to Lens
Join members of the Champaign-Urbana Film Society as they help us get ready for the Pens to Lens screenwriting contest for students in grades K-12. We will view some winning projects from last year and try some fun activities to get us started.
Write On! • Tuesday, January 13• 3:45 - 5:00 p.m. • Lewis Auditorium
For students in grades 3 - 6. Register online or call the question desk at 367-4069.
Pens to Lens • Saturday, January 24 • 2:00 - 4:00 p.m. • Lewis Auditorium
For students in grades 6 - 12, parents, and teachers.  Students grades K - 5 may participate if accompanied by an adult.
Pens to Lens is a joint project of the CU Film Society, Champaign Movie Makers, and CUDO.
 
---
---
 Prairie Breezes Presents Class Act Showstoppers

Friday, January 16 • 4:30 - 5:15 p.m.

•

Lewis Auditorium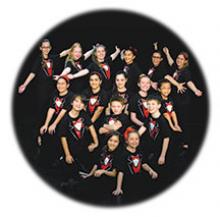 Join the Class Act Showstoppers for Sing & Swing: An Irving Berlin Revue. These talented young performers will delight audiences of all ages as they celebrate one of America's greatest composers.
Prairie Breezes concerts are for children and their families and take place on the second Friday of most months. The series is generously sponsored by Peggy and Bob Podlasek in memory of Greg Bliss.
---
Happy 140th Birthday with the Boneyard Jazz Quintet

Sunday, January 25 • 2:00 - 3:00 p.m.

•

Busey-Mills Reading Room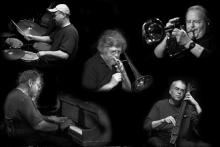 We're celebrating the Library's 140th Birthday with our friends from the Boneyard Jazz Quintet. The are seasoned jazz players that play beloved jazz tunes that people know--Duke Ellington, George Gershwin, Cole Porter, Richard Rodgers, Miles Davis, Dizzy Gillespie, and more. The quintet plays a variety of styles (swing, Latin, ballads, etc).
The Boneyard Jazz Quintet is Armand Beaudoin (bass and cello); Gary Peyton (drums); Morgan Powell (slide trombone); Randy Salman (Saxophone); Shab Wirtel (trumpet); and Donnie Heitler Stephens (piano).
---
What is Black and White and Read All Over? (*)
 
Children (infants to grade 5) can read away the winter blues when they sign up for the 2015 Winter Reading Program!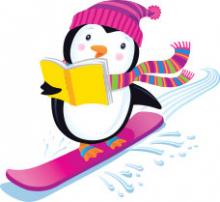 Pick up a reading log at the Children's Services question desk or download a PDF copy.
Each time you read 15 minutes or more, color a stripe on the penguin's scarf on your reading log.  
You can read anything—books, magazines, listen to Tumblebooks, or have someone read to you.  
When you have colored all the stripes on the penguin's stripes, return your reading log to the question desk after February 1 (and before February 28) and receive a free book!
(*) Answer:  A good book! 
Book prizes for the Winter Reading Program are funded by the Friends of The Urbana Free Library.  
 
---
eBooks for eKids!