More Local History & Genealogy workshops and events are being planned. Keep up-to-date by signing-up for our monthly eNewsletter, Local History & Genealogy News. 
Tuesday, November 10, 7:00 p.m. - 8:30 p.m.
Zoom | Registration required
Hosted by the Champaign County Genealogical Society, nationally-known genealogy professional Thomas MacEntee will instruct attendees on how to work 'smarter' instead of 'harder' when it comes to managing genealogy data." The session will focus on documenting a genealogy project from beginning to end, including using research logs to track information and management strategies for your genealogy data files.
Thomas MacEntee is a genealogy professional specializing in using technology and social media to improve genealogy research and to connect with the family history community.
Cosponsored by The Urbana Free Library.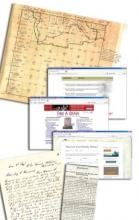 Thursday, November 19, 6:30pm - 8:00pm
Zoom | Registration required
Locating records to prove our genealogy facts can be the most exciting part of compiling family
history! In this introductory workshop, you will learn how to begin exploring your family history and how to use sources as evidence to support genealogical research. We will also learn about local, state, and national resources available to family historians.
Notebooks for recording your research will be available to the first 20 registrants. Electronic copies will be available for anyone unable to collect a notebook.
Cosponsored by the Champaign County Genealogical Society.
Not finding what you're looking for?
Phone: 217-367-4025
archives@urbanafree.org