Archives Staff at The Tolono Public Library
Friday, September 13, 2019 ː 6:00 pm - 7:00 pm
Tolono Public Library, 111 East Main Street, Tolono, IL 61880
During this hour-long workshop, you will be given a brief history of the Tolono Public Library District (Tolono, Savoy, and Sadorus). Afterwards, you will be introduced to a variety of resources that you can use to further research your own genealogy.  
Beginning Genealogy Workshop: Working with Sources
Saturday, October 12, 2019 ː 2:00 p.m. - 4:00 p.m.
Lewis Auditorium (Ground Floor)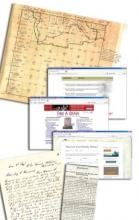 Locating records to prove our genealogy facts can be the most exciting part of compiling family history! In this introductory workshop, you will learn how to begin exploring your family history and how to use sources as evidence to support genealogical research. We will also learn about the local, state, and national resources available to family historians. Workshop will be taught by Donica Martin, Archives Librarian.
Notebooks for recording your research will be available to all registrants.
This is a FREE WORKSHOP, however, registration is required.
To register, please call the Champaign County Historical Archives at 217-367-4025, stop by the Archives, or register online through the Library's online calendar.
Registration is limited to 20 participants.
More Local History & Genealogy workshops and events are being planned. Keep up-to-date by signing-up for our monthly eNewsletter, Local History & Genealogy News. 
Not finding what you're looking for?
Phone: 217-367-4025
archives@urbanafree.org