Local History & Genealogy Digital Exhibits

Digital exhibits on a variety topics, drawing from our unique collections of books, journals, newspapers, records, manuscripts, photographs, and more.  
Community Collections
Archives-at-home: A Champaign County COVID-19 Collection

Please join CCHA as we chronicle Champaign County through COVID-19 by curating stories, diaries, art, photographs, poems, reflections, and more. We welcome submissions from all ages and community members. Please submit as often as you'd like.
Documenting Racial Justice in Champaign County

CCHA is chronicling racial and social justice movements in Champaign County, like Black Lives Matter, by collecting physical and digital materials including photographs, videos, voice recordings, social media posts, poems, essays, reflections, artwork, organizational records, and more from community members. We welcome submissions from all ages and community members. Please submit as often as you'd like.
Flickr

Digitized historic photographs, advertisements, texts & more from our unique collections. Examples include: African-American Community Leaders, Casual Dining in Champaign-Urbana, Champaign County Homes, 1838-1920, Chanute: Daily Life on the Rantoul AFB, and many more.
Oral Histories 

We have over 250 oral histories with topics that cover the length and breadth of the history of Champaign County and its communities. Richly represented within the collection are stories of rural life, and experiences of the African American community. Additionally, many recordings and their corresponding transcripts (when available) have been digitized and made available online.
Web Archiving 
CCHA regularly archives websites from around Champaign County to reflect the ever-changing nature of local history documentation.
Multimedia Presentations
These projects feature content from the Champaign County Historical Archives. 
Campus Middle School for Girls Podcasts

Each year CMS celebrates Forum Week, where they suspend their normal curriculum and the entire school focuses on a single topic. The topic for 2016 was podcasting. The finished podcasts are entirely student-created: the girls researched their topics, conducted interviews, wrote scripts, composed music, and recorded and edited the final podcasts. The groups created podcasts about 6 historically-significant local organizations: Champaign County Historical Museum, Courier Cafe, Common Ground Food Co-Op, League of Women Voters of Champaign County, Capoeira Angola Center, and First United Methodist Church of Urbana.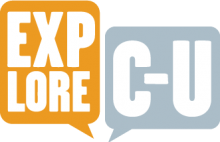 Explore CU is a free web and mobile platform about the arts, culture, and history of Champaign-Urbana and its surrounding area. Developed by the University Library at the University of Illinois Urbana-Champaign. 
Champaign County African American Heritage Trail
Discover over 170 years of African American history in Champaign County through stops along the trail. From historic churches to self-made individuals, you'll discover powerful stories of African Americans and the rich history of building community in Champaign County.
Historic Champaign County – Neighborhoods and Homes

The Illinois Digital Archives (IDA) was created in 2000, as a repository for the digital collections of the Illinois State Library as well as other libraries and cultural institutions in the State of Illinois. Historic Champaign County – Neighborhoods and Homes' contains digital copies of  Preservation and Conservation Association (PACA) historic property inventories, and City of Urbana - House Surveys, of several hundred Champaign and Urbana residences.
 
In Lincoln's Shadow: A walking tour of historic Urbana, Illinois

Abraham Lincoln spent nearly twenty years of his life practicing law in Urbana while on the Circuit Court, making friends and gaining political allies. This is not a tour of sites that he visited, but rather a look at the connections between the Urbana of Lincoln's era and the historic buildings of today's downtown. This on-demand, self-guided tour allows you to see images and hear sounds from the past on the actual spot where history was made. The pastcast is available to download as audio or video to your personal device.

Not finding what you're looking for?
Phone: 217-367-4025
archives@urbanafree.org