Call ahead @
217-531-7096

to

place your order!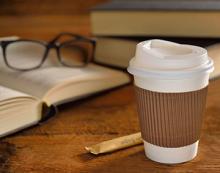 The Urbana Free Library Cafe and Friends Book Shop offers a wide range of beverages, featuring coffee and tea.
In 2006, the Library added coffee service to quench the overwhelming thirst of the users who had requested it. Aside from the flavorful benefits it offers Library users, the presence of the coffee shop offers much more.
It adds to the variety of businesses in downtown Urbana.
It's located in a popular community setting.
It provides a location for the Friends of The Urbana Free Library to sell gently used books year-round.
It's the spot for patrons to buy Library T-shirts, tote bags, thermal mugs, and other gear.
Most importantly, it permits the Library to keep the historic Race Street entrance, an important connection to the downtown district, accessible all hours the Library is open.
Proceeds from The Urbana Free Library Cafe and Friends Book Shop benefit the Library.
Remember...when you support the cafe, you support the Library.