Vol. 42, No. 3 March 2017
Archived Newsletters | Calendar of Library Events | Library Calendar (PDF)
Click here to sign up for e-notification of library events, including the library's monthly newsletter. Enter your email, your first and last name, and use the pull-down Event Type menu to select your notification preferences, select Save and you're done!
---
Friday, March 10 • 6:00 - 9:00 p.m.
Adventure and excitement await! Fairy tale lovers of all ages are invited to an evening of stories, crafts, games, and entertainment. Don your shiny suit of armor, sparkly ball gown, or dress like your favorite fairy tale character and join us for an evening of fantasy and frivolity.
Royal performers and activities include:
Royal Herald (have your arrival announced)
Clothespin Puppets Performances
Fortune Teller
Royal Alchemist
Juggler, Storyteller, and Singer Joe Reichlin
International Fairy Tales
Costumed Characters
Courtly Crafts
Knight School
Enchanted Forest/Labyrinth Scavenger Hunt
Sleepy Hollow Room (take a pause from the medieval mayhem)
Making Memories (photo opportunity)
The Tenth Annual Fairy Tale Ball is generously sponsored by Fred Schlipf and Diane Hillard.
---
Thursday, 5:00 - 8:30 p.m. (members only)
Friday & Saturday, 9:00 a.m. - 5:30 p.m. (regular-price sale)
Sunday, 1:00 - 4:30 p.m. (half-price sale)
Monday, 9:00 a.m.- 1:00 p.m. (free giveaway)
You're invited to join hundreds of fellow treasure seekers at one of the most anticipated events of the season! Members of the Friends have access to a special preview on Thursday evening (no electronic devices for scanning will be permitted on preview night).
Not a member yet? Join ONLINE or download the handy membership form, which you can drop in the mail or turn in at any library service desk.
Each year, the Friends hold massive sales of great used books in spring, summer, and fall. You can also browse a selection of gently used books year-round at The Urbana Free Library Cafe and Friends Book Shop. Proceeds from book sales and the Book Shop support Library programs and the purchase of Library materials.
---
First Friday Event: A Reading and Book Signing with Patricia Hruby Powell
Friday, March 2 • 6:00 - 7:30 p.m. • Lewis Auditorium (Ground Floor)
For Adults and Teens
Award-winning author, dancer, and storyteller Patricia Hruby Powell will be reading from and signing her recently-released documentary novel Loving vs. Virginia. The novel recounts the powerful love story of Richard and Mildred Loving, the interracial couple whose civil rights victory made history. As part of her program, Patricia will show clips from Nancy Buirski's acclaimed documentary, The Loving Story. (Courtesy Icarus Films)
Patricia Hruby Powell danced throughout the Americas and Europe with her dance company, One Plus One, before becoming a storyteller and a writer of children's books. Her picture book Josephine: The Dazzling Life of Josephine Baker (Chronicle 2014) has garnered numerous high-profile awards. You can visit Patricia online at talesforallages.com.
*Copies of the book will be available for purchase at the event, courtesy of Jane Addams Book Shop.
The Library will be open until 8:00 p.m. for this special First Friday Imbibe Urbana event.
---
Library Staff at Read Across America
Saturday, March 4 • 10:00 a.m. - 1:00 p.m. • Lincoln Square Mall in Urbana
Read Across America has become one of the nation's largest reading events. All across the country, children and their families come together to hear stories, meet their favorite book characters, and participate in fun activities.
Join us at the Lincoln Square Mall in Urbana where staff from The Urbana Free Library will join the 17th Annual Read Across America Celebration. Come have some reading fun!
---
Wednesday, March 15 • 7:00 - 8:00 p.m.• Lewis Auditorium (Ground Floor)
For adults and teens
"A glorious tribute to Octavia Butler's masterpiece. Extraordinary."
— Junot Díaz, Pulitzer Prize–winning author
Octavia E. Butler's bestselling literary science-fiction masterpiece, Kindred, is now a critically-acclaimed graphic novel. Our guest will be one of the authors — Damian Duffy — who adapted this intense and timely story (along with co-author John Jennings). Damian — a writer, cartoonist, and lecturer at the University of Illinois — will describe the winding path from novel to graphic novel, discuss the challenges of making comics about slavery, and talk about the problems with thought balloons and sound effects. He'll also tell us why he thinks Octavia Butler's legacy is important — now more than ever.
---
Children's Programs
Going Batty for Bats!
Saturday, March 4 • 2:00 - 3:00 p.m.
For children ages 5 and up
Come learn about one of the largest groups of mammals on earth. Members of the Sears Lab at the University of Illinois will be on hand to share photos, videos, and hands-on activities.
Read to the Dogs
Monday, March 20 • 4:15 - 5:00 p.m.
For children in elementary school
"Paws" at the Library over spring break to read to furry, four-footed friends from Canine Connection.
Make and Take Spring Break
March 20 - 24 • All Day
For children and families
Feeling creative? Come to the Library for our all day, drop-in craft extravaganza!
Princess Party
Friday, March 24 • 3:00 - 3:45 p.m.
For children ages 2 and up
Calling all princesses! Join us for princess filled stories, songs, crafts, and treats. If you like, come dressed as a princess.
---
Music @ the Library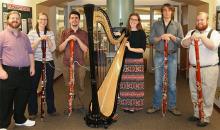 Prairie Breezes presents All Score Urbana
Saturday, March 4 • 11:15 - 11:45 a.m.
For families
Join All Score Urbana for a fun, family-friendly concert performed by Standard Rep bassoon quartet and harpist Molly O'Roark. Performing music composed by Urbana residents in monthly workshops, they will bring musical ideas to life with interactive activities led by composer Ralph Lewis.
Prairie Breezes concerts are generously sponsored by Peggy and Bob Podlasek in memory of Greg Bliss.
Urbana Pops Orchestra Concert
Sunday, March 12 • 2:00 - 3:00 p.m.
For children and families
Christopher Raymond, bassoon
Join us for a free recital series at the Library that will feature solo performances by some of the professional and student musicians of the Urbana Pops Orchestra.
Co-sponsored by The Urbana Free Library and the Urbana Pops Orchestra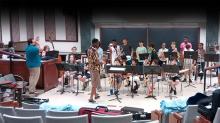 UFLive! presents the BBL Fine Arts Academy
Sunday, March 19 • 2:00 - 3:00 p.m.
For music lovers of all ages
Enjoy the sounds of young musicians from the Banks Bridgewater Lewis Fine Arts Academy. The academy serves students in elementary through high school focusing on musical skill building using jazz, gospel, and popular music. We'll hear from the BBL Intermediate Ensemble, the Mo' Betta Music Small Ensemble, and the BBL Vocal Ensemble. We will also be joined by Nathaniel C. Banks, co-director of the Academy.
UFLive! concerts are generously sponsored by The Urbana Free Library Foundation and are scheduled on the third Sunday of most months.
---
Community Poems: A Group Reading by the CU Poetry Group
Tuesday, March 7 • 6:30 - 7:30 p.m. • Lewis Auditorium (Ground Floor)
For adults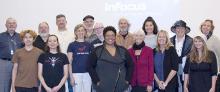 Poetry is a vibrant art when read aloud.
The CU Poetry Group meets weekly to share poems and exchange honest feedback to make the poems better with an eye toward publication and public performance.
The group says, "Our public readings are where our poems come to life with an audience in a casual and informal setting. We believe in building community one poem at a time."
---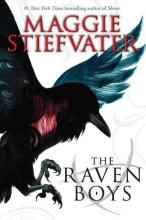 Maggie Stiefvater, New York Times best-selling young adult author, will be visiting the Library in November to talk about her hit series The Wolves of Mercy Falls and The Raven Cycle.
Her books range from werewolf love stories to legends about Cornish kings, but always at the heart are impossible dreams and the lengths we'll go to follow them.
Maggie Stiefvater has held many jobs: portrait artist and wedding musician to name a few. Now she makes her living as an author, but she also draws and composes her own music. She even plays bagpipes.
A Q&A session and a book signing follow her talk. Copies of her books will be available for purchase.