Vol. 43, No. 7 July 2018
Archived Newsletters | Calendar of Library Events | Library Calendar (PDF)
Click here to sign up for e-notification of library events, including the Library's monthly newsletter. Enter your email address and name, use the pull-down Event Type menu to select your notification preferences, select Save, and you're done!
---
City of Urbana News
You might have seen some articles about the City of Urbana's fiscal year 2019 budget, which begins July 2018. Here are some specifics which might interest you.
The City's budget reduces funding to The Urbana Free Library (TUFL) by $55,400 on an annual basis. I am pleased to tell you that due to hard work and careful planning, TUFL was able to absorb this reduction without cutting the budget for staffing, materials, or programming. Looking ahead, we anticipate additional cuts in fiscal year 2020, which are yet to be determined. In being good stewards of Library resources, we will look for ways to continue to provide you with excellent service while working within the new financial realities.
Parking rates in Downtown Urbana, including by the Library, have not increased since 1986. TUFL receives no revenue from the parking meters. The City's budget increases these parking rates from $.25 per hour to $.50 per hour. If you have a mobile phone, it is easy to pay for parking using the MobileMeter app, available here: https://mobilemeter.us/. Parking remains free at the Library after 4:00 p.m. and is free all day on the weekends!
In addition, the Civic Center will close December 31, 2018, pending the outcome of the City's facilities study. However, the Library does offer different options for room use. If you are interested in learning how to reserve spaces at the Library FOR FREE, check out our website here: https://urbanafreelibrary.org/library/meeting-rooms. The Lewis Auditorium can seat up to 130 people and the Satterthwaite Conference Room can seat up to 18. Both are available for non-profit, public events held by non-profit groups. Also, the Library has two study rooms on the second floor which can be reserved up to one week in advance by individuals and small groups. 
The Urbana Free Library has a wealth of resources, programming, and staff who can help enrich our community life. We hope to see you soon!
Celeste Choate, Executive Director
cchoate@urbanafree.org
217-367-4058
---
Centennial Celebration!
100 Years of The Samuel T. Busey Library
Saturday, July 7 • 1:00 - 5:30 p.m.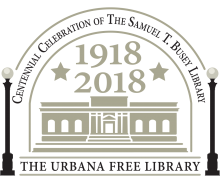 Please join us for a celebration of the Library's landmark building, which opened to the public in July 1918. It was designed by Joseph W. Royer, with a $35,000 gift from Mary E. Busey, as a memorial to her husband, Samuel T. Busey.
Special exhibits
"Mary E. Busey's Gift: A Centennial Celebration of The Samuel T. Busey Library"
McFarlane-Hood Reading Room • 1st and 2nd Floor Exhibit Cases
1:00 – 2:30 p.m.
Step back into history with games and activities from the early 1900s
Co-sponsored by the Museum of the Grand Prairie. All ages welcome!
Lewis Auditorium
1:30 p.m.
Live music with the local Dixieland sextet Carl Johnson and the New Orleans Jazz Machine
Busey Mills Reading Room
2:30 p.m.
Remarks by special guests • Busey Mills Reading Room
3:00 p.m.
Enjoy cake and specialty drinks from the café (while supplies last)
Busey Mills Reading Room
3:30 – 4:30 p.m.
Presentation by author Brian Adams, "A Library Building Second to None"
Lewis Auditorium
---
A First Fridays Event: Drag Queen Story Hour
Friday, July 6 • 6:30 - 7:15 p.m.
For all ages • Busey-Mills Reading Room (First Floor)
This fun and fabulous all-ages event features local drag queens reading children's stories and doing crafts. Expect sparkles, glamorous dress-up, and a friendly atmosphere.
Drag Queen Story Hour (DQSH) was developed by Michelle Tea and RADAR Productions. Many libraries host DQSR events as a way of celebrating diversity, building empathy, and helping to curb bullying of LGBTQ kids.
This event is co-sponsored by the UP Center of Champaign County.
The Library will be open until 8:00 p.m. for this special Imbibe Urbana event!
---
Fan Con '18
Saturday, July 28 • 11:00 a.m. - 4:00 p.m.
For all ages and fandoms

Dress up in your favorite cosplay and prepare for a day full of all the pop culture and geeky things you love. At Fan Con '18, all fandoms are embraced all fandoms, from dungeon crawling D&Ders to Death Note-loving otakus, from gamers who just want one more hour of Minecraft™ or Super Smash Bros.™ to hardcore Supernatural fans who make memes for every situation.
Check back for a schedule of events.
---
Reading Takes You Everywhere!
2018 Summer Reading Program for All Ages
For all ages • May 21 – August 31
Register online or at the Library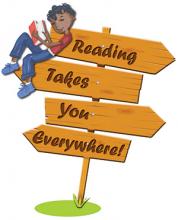 This summer, make time to read the books you love and win prizes just for reading! Read books of your choice (including eBooks and audiobooks) and attend fun programs. Get ready for Reading Takes You Everywhere!
The Summer Reading Program is generously supported by the Friends of The Urbana Free Library.
---
Teen Video Game Night
Friday, July 13 • 5:30 - 8:30 p.m.
For teens • Lewis Auditorium (Ground Floor)
Think you got game? Join Teen librarians in this special after hours event and find out! Minecraft™, vintage video games, board gaming, Super Smash Bros.™, Mario Kart™, and more will all be available to test your skill!
---
Make Your Agent Search Work For You
Thursday, July 19 • 7:00 - 8:45 p.m.
For adults • Lewis Auditorium (Ground Floor)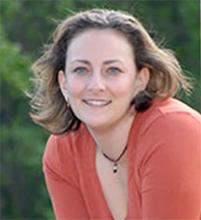 Join us for a Skype date with children's and young adult author Jenny Meyerhoff, who will de-mystify the world of agents in the field of children's book publishing. In her presentation, she will share how an agent search can be about a lot more than finding an agent.
Jenny is the author of the children's book series The Friendship Garden, The Barftastic Life of Louie Burger, and several young adult novels, including The Queen of Secrets and Playing Cupid. You can learn more about Jenny at her website, jennymeyerhoff.com.
This program is presented in collaboration with the East Central Illinois Network of the Society of Children's Book Writers and Illustrators.
---
All Around This World! A Family Concert
Saturday, July 21 • 1:00 - 2:00 p.m.
For all ages • Lewis Auditorium (Ground Floor)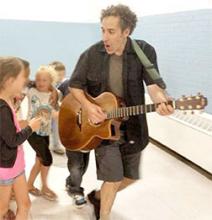 Explore the world by enjoying global music, rhythms, and movement from African, Asian, and Latin American cultures.  Musician Jay Sand brings his unique and engaging experiences with music, dance, and song to all ages.
Co-sponsored by The Urbana Park District and The Urbana Free Library and paid for by a City of Urbana Arts Grant.
---

Children's Summer Programs at The Urbana Free Library
Make It Mondays
Every Monday, All day
Baby and Me Yoga Series
Sunday, July 8 • 1:30 - 2:00 p.m.
Wee Love Music
Wednesday, July 11 • 6:00 - 6:30 p.m.
Tracking Down Nature
Thursday, July 12 • 11:00 a.m. - Noon
International Book and Cook
Friday, July 13 • 2:00 - 2:45 p.m.
Babies' Lap Time
Saturday, July 14 • 11:00 - 11:30 a.m.
Young Artists Workshops
Sunday, July 15 • 3:00 - 3:45 p.m.
Trains and Cars and Bicycles, Oh My!
Thursday, July 19 • 11:00 a.m. - Noon
Crafty Story Time
Saturday, July 21 • 11:00 - 11:30 a.m.
Traveling Science Center by the Illinois Natural History Survey at the Library
Tuesday, July 24 • 4:00 - 5:00 p.m.
Slither and Crawl: Snakes and Turtles
Thursday, July 26 • 11:00 a.m. - Noon
Teddy Bear's Picnic (at Carle Park)
Tuesday, July 24 • 6:30 - 7:15 p.m.
---
Social Media: Risks and Realities
Sunday, July 29 • 3:00 - 4:30 p.m.
For adults and teens • Lewis Auditorium (Ground Floor)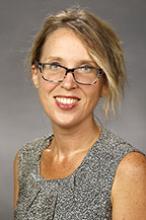 Who is Cambridge Analytica?
How did they build psychological profiles of millions of Facebook users and target them with information?
Could it happen again?
Are teens safe on social media?
Are any of our identities safe?
Learn about these topics as longtime Urbana native Dr. Aimee Rickman of California State University, Fresno, shares information from her new book, Adolescence, Girlhood, and Media Migration: US Teens' Use of Social Media to Negotiate Offline Struggles (2018, Lexington Books).
---
Read at the Market with The Urbana Free Library
Saturday, July 28 • 8:00 a.m. - Noon
Read at the Market is back! On the fourth Saturday of each month (May through October) from 8:00 a.m. to noon, Library staff will appear at Urbana's Market at the Square--the #1 Must-See Farmer's Market in Illinois!
At Read at the Market, you can enjoy a story on the Magic Reading Carpet, sign up for the Summer Reading Program, and learn about programs, services, and what is new and exciting at the Library. You also can browse through a selection of books (and check one out) and pick up a free Read at the Market balloon. This summer, we'll see you at the Library AND the Market at the Square.
This season's Read at the Market dates are August 25, September 22, and October 27.
Read at the Market is sponsored by The Urbana Free Library in collaboration with the Market at the Square.