Vol. 43, No. 1 January 2018
Archived Newsletters | Calendar of Library Events | Library Calendar (PDF)
Click here to sign up for e-notification of library events, including the Library's monthly newsletter. Enter your email address and name, use the pull-down Event Type menu to select your notification preferences, select Save, and you're done!
---
The Urbana Free Library welcomes your ideas for the vacant lot at 202 West Green Street, at the northwest corner of Green Street and Race Street.
Thanks to the generosity of our community, The Urbana Free Library Foundation purchased 202 West Green Street for the Library on June 30, 2017. The Library would love to collect your ideas for the lot and share them with the community. When you submit your ideas using the survey, we will post them on the Library's website so everyone can see them.
One thing to consider is the MCORE Project 5. Construction is planned to occur in 2019 to enhance Green Street from Busey Avenue to Race Street and will be a factor in what happens on the corner lot and when. One long-term impact is that some of the southeast corner of the lot will be sold to the city in order to create a better turn radius for buses and other large vehicles. Other impacts – temporary or permanent – will become clearer once the MCORE design process begins in early 2018.
All that being said, come dream with us! What would you like to see on the corner? Please indicate whether your ideas are for 2018 before MCORE Project 5 begins or for after MCORE Project 5 is complete in 2019.
Thank you for sharing our excitement in this wonderful addition to the Library block!
Click HERE to see the survey results.
---
LEGO® Contest
Saturday, January 27 • All Day
Registration Opens • Tuesday, December 19 • Registration Required
It's time to dust off your old LEGO® sets to build them into something entirely new, something entirely made by Y.O.U.
To register for the LEGO® Palooza LEGO® Contest and for full details, go to the Library's e-calendar of events.
DEADLINE TO REGISTER: Wednesday, January 24 at 11:55 p.m.
Entries must be dropped off Friday, January 26, 3:00 to 6:00 p.m., or Saturday, January 27, 9:00 to 11:00 a.m.
Contest takes place Saturday, January 27, with judging running from 11:00 a.m. - 1:00 p.m.
LEGO®is a trademark of the LEGO Group of companies, which does not sponsor, authorize, or endorse this event.
---
Friday, January 5 • 6:30 - 7:15 p.m.
Lewis Auditorium (Ground Floor) • Free Admission • For all ages
Join us for First Fridays fun at the Library!
Stop by the Library for First Fridays fun! Mr. Stephens has super-fun kids music for super-fun kids and magician Greg Loschen will dazzle with magic tricks.
The Library will be open until 8:00 p.m. for this special Imbibe Urbana event!
---
December 19 - February 28
When it's cold outside, there's nothing better than warming up with a cup of hot chocolate and a book. Reading is a great resolution for the New Year! And, when you sign up for the Library's winter reading program, you can earn free books.
For more information and to print a reading log, visit the Winter Reading page on the Library's website.
Book prizes are funded by the Friends of The Urbana Free Library.
---
Friday, March 9 • 6:00 - 9:00 p.m. • For all ages
~ A special after hours event! ~
Adventure and excitement await! Fairy tale lovers of all ages are invited to an evening of stories, crafts, games, and entertainment. Don your shiny suit of armor or sparkly ball gown, or dress like your favorite fairy tale character, and join us for an evening of fantasy and frivolity.
The Eleventh Annual Fairy Tale Ball is generously sponsored by Fred Schlipf and Diane Hillard.
---
Saturday, January 6 • 11:15 - 11:45 a.m.
Lewis Auditorium (Ground Floor) • For all ages
The musical style of Congolese musicians Jean Rene Balekita and Bomoyi is a rich mix of gospel and jazz with an African rhythm. They sing in English, French, Lingala, Kikongo, and Tshiluba. They have toured in Africa, Europe, and the United States and now live in Urbana, Illinois.
Prairie Breezes concerts are scheduled monthly and are generously sponsored by Peggy and Bob Podlasek in memory of Greg Bliss.
---
Sunday, January 21 • 2:00 - 3:00 p.m.
Busey-Mills Reading Room (First Floor) • For all ages
The Young and the Fretless plays old-time Appalachian Mountain fiddle tunes and songs for dances, festivals, and special events in the great prairie state of Illinois. The band members are Lyle Konigsberg (fiddle), Tom Bassett (fretless banjo), Hilary Valentine (guitar) and Rebecca Grosser (bass). The Young and the Fretless say that they hope their "driving, rhythmic sound will make everyone want to jump up and dance!" The band's most recent CD is Ain't Gonna Work Tomorrow.
---
Saturday, January 13 • 8:00 a.m. - Noon
For all ages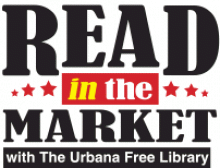 You can visit with Library staff at Read in the Market, an event at Urbana's Lincoln Square in downtown Urbana. Enjoy a story on the Magic Reading Carpet, or learn about programs, services, and what's new on the shelves.
Upcoming dates: February 10, March 10, and April 14
Read in the Market is sponsored by The Urbana Free Library in collaboration with the Urbana Business Association.
---