Vol. 42, No. 12 December 2017
Archived Newsletters | Calendar of Library Events | Library Calendar (PDF)
Click here to sign up for e-notification of library events, including the Library's monthly newsletter. Enter your email address and name, use the pull-down Event Type menu to select your notification preferences, select Save, and you're done!
---
Support the Foundation's Annual Campaign
Next year The Urbana Free Library celebrates its 100th anniversary in its current location, a historic building designed by Urbana architect Joseph Royer. As we begin our 2018 fund drive, The Urbana Free Library Foundation believes we have the opportunity, with your help, to significantly improve the Library's appearance over the year and for the next 100 years.
We have two big projects in view. A year ago we asked your help in acquiring the vacant corner lot at Race and Green Streets. You came through big time, donating more than $100,000. In June we purchased the lot at a price well below what was originally asked and deeded the lot to the Library. Thank you!
But there's a second act: designing and landscaping the corner lot as an attractive southern entryway to the Library and to all of downtown Urbana. This will be a wonderful opportunity to celebrate the Library—both inside and out. 
The second big project is to restore the historic, east-facing front porch, which was found this summer to be structurally unsound. This will be an expensive job, and we want to do it right to preserve this part of the historic Library well into the future.
Read more about the Foundation's Annual Campaign
---
Friday, December 1 • 6:30 - 7:15 p.m.
Lewis Auditorium (Ground Floor) • Free Admission • For all ages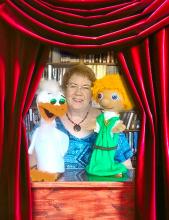 Anne Newman returns with her magical puppets and captivating storytelling for this special First Fridays event. Come see this amazing performance of Jack and the Beanstalk, the suspenseful and fun tale of a poor boy and a mysterious beanstalk!
The Library will be open until 8:00 p.m. for this special Imbibe Urbana event!
---
Saturday, December 2 • 2:00 - 3:00 p.m.
Lewis Auditorium (Ground Floor)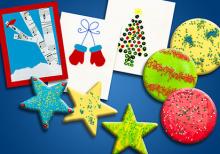 Show some love to family and friends with a homemade card. We'll have creative ideas and lots of crafty materials to get you started. Then stop by the cookie table, where you can decorate a sweet treat for yourself!
---
Wednesday, December 6 • 7:00 - 8:00 p.m.
For all ages • Lewis Auditorium (Ground Floor)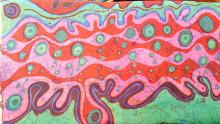 Attend the closing reception for Artists of the Corridor Lara Orr and Jill Miller. These amazing textile artists will talk about their work and take questions. There will be a hands-on art activity for families. Refreshments will be provided. Free and open to the public.
Cosponsored by the Urbana Public Arts Program, the City of Urbana, the Illinois Arts Council, and The Urbana Free Library.
---
Sounds of the Season
Prairie Breezes presents Almost "A" Trio
Saturday, December 9 • 1:30 - 2:00 p.m.
For children and their families • Lewis Auditorium (Ground Floor)
Join musicians Sam Gingher, Armand Beaudoin, and Dorothy Martirano for an eclectic mix of gypsy jazz, classical, and other instrumental music. Piano, didgeridoo, accordion, piccolo bass, and violin will all be presented in this family concert.
Prairie Breezes family concerts are generously sponsored by Peggy and Bob Podlasek in memory of Greg Bliss.
Music Writing Workshops: All Score Urbana
Saturday, December 9 • 2:30 - 4:30 p.m.
For all ages • Lewis Auditorium (Ground Floor)
All Score Urbana is an action learning-based initiative that increases access to music composition resources for the Urbana community.
UFLive! presents Carl Johnson and the New Orleans Jazz Machine
Sunday, December 17 • 2:00 - 3:00 p.m.
For all ages • Busey-Mills Reading Room (First Floor)
Escape the winter blues with our annual holiday concert with the amazing local Dixieland sextet, the New Orleans Jazz Machine, led by Carl Johnson on clarinet. Your spirits will be lifted and your toes will be tapping as you listen to NOJM's swinging New Orleans-style jazz.
UFLive concerts are scheduled on the third Sunday of most months. This month's concert is generously sponsored by Bob and Bonnie Switzer.
---
Children's Holiday Programs
Candy Christmas Trees
Saturday, December 9 • 11:00 - 11:45 a.m.
For children and their families • Lewis Auditorium (Ground Floor)
Enjoy stories and songs about Christmas trees, then make your own yummy, candy Christmas tree to take home.
Art Lessons for Children: Holiday Origami
Saturday, December 16 • 2:00 - 2:45 p.m.
For children ages 5 and up (7 or under with an adult) • Lewis Auditorium (Ground Floor)
Holiday paper-folding fun! Once again, Ailing and Yukimi, two local origami artists, will help you make holiday-themed creations to take home or give as gifts.
Frosty's Family Frolic
Sunday, December 17 • 3:00 - 3:45 p.m.
For families • Lewis Auditorium (Ground Floor)
It's a wonderful time of year, and Frosty is throwing a party for the whole family! Join us for snowman-related songs, stories, and crafts as we celebrate the coming of winter!
"Noon" Year's Eve (This Year's Countdown Begins at 2:00 p.m.)
Sunday, December 31 • 1:30 - 2:30 p.m.
For families • Lewis Auditorium (Ground Floor)
Are you afraid you won't last until midnight to welcome the New Year? Celebrate with us! We will start the celebration at 1:30 p.m. and countdown to the New Year at 2:00 p.m. this year (because the Library isn't open at noon!). Join us as we ring in the New Year with stories, food, and fun.
---
Children's Services (Ground Floor)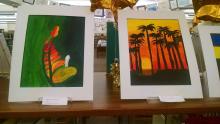 Enjoy the creative artwork by the students of Hua Nian Art Studio on display in Children's Services from December 17 to January 14. For more information, visit Hua Nian Art Studio.
---