Computer Lab Volunteer Application (PDF)
Teen Open Lab Volunteer Application (PDF)
Volunteer Release and Waiver of Liability and Assumption of Risk Agreement (PDF)
Read more about Volunteer Opportunities
---
Volunteers have been a critical part of The Urbana Free Library's success throughout its history. They donate their valuable time, enthusiasm, leadership, skills, and fundraising efforts.  The Library could not be what it is today without our volunteers, and we thank all who have donated their time and commitment!
To be considered for a volunteer opportunity, please complete the application and Volunteer Release and Waiver of Liability and Assumption of Risk Agreement.  If you choose to be a Computer Lab Volunteer or Teen Open Lab Volunteer, you do not need to fill out the general application also.  If you have questions, please call Amanda Luebeck at 217-367-4057 after February 21, 2022.
The completed form may be scanned and emailed to:
or mailed to:
The Urbana Free Library
ATTN:  Amanda Luebeck
210 West Green Street
Urbana, Illinois 61801
Please Note:  There is an approval process and reference check associated with the application.
Click on the links below to read more about some unique opportunities:
Online Book Sales
Other (Contact Amanda Luebeck at 217-367-4057 after 2/21/22 if you would like to learn about other volunteer opportunities.)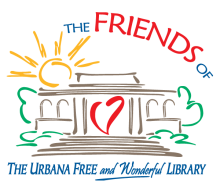 Friends of The Urbana Free Library volunteer opportunities and membership information can be found on their webpage.