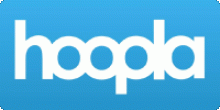 Getting started with Hoopla 
Hoopla offers movies, TV show episodes, music albums, audiobooks, eBooks, and comics/graphic novels to stream or download on a mobile device or personal computer.
Each The Urbana Free Library cardholder can download 10 titles during the calendar month (e.g. January 1 – 31).  Unused checkouts DO NOT rollover to the next month.
Movie and TV content is available for 3 days after borrowing. Music albums are available for 7 days, and audiobooks, eBooks, and comics/graphic novels are available for 21 days.
The mobile Hoopla app can be found in the App Store on your iOS device, the Google Play store on your Android device, and via Amazon.com for supported Kindle Fire devices. Search for "Hoopla Digital" to find and download the app.  Find The Urbana Free Library and enter your library card number and PIN (usually the last 4 digits of your phone number.)
On a mobile device, borrowed content may be temporarily downloaded and accessed offline.  Using the app or on a computer, you can stream all borrowed titles.
For more information or should you have questions, please visit the Library or call (217) 367-4405.  Library staff are here to help!