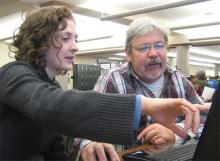 The Adult and Youth Services staff of The Urbana Free Library work in partnership with a team of technology volunteers to provide one-on-one instruction in the Flex-n-Gate Computer Center.
We can teach you how to search the Web more effectively, create an e-mail account and send messages, manage and save digital files, design and print documents, and more!
For more info
Phone: 217-367-4405
Email: reference@urbanafree.org
The Urbana-Champaign Independent Media Center (UC-IMC) also offers free computer assistance at their Help Desk on Sundays from 2:00 - 4:00 p.m. The IMC's Help Desk is located at 202 South Broadway, on the ground floor in room 16 (one block east of the Library). For more info, please contact them at 217-689-1462 or imchelpdesk@gmail.com.