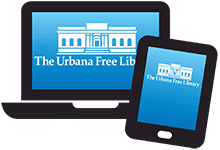 The Library offers a Chromebook, Windows-based laptop, and tablet-lending service for Library patrons. 
Our HP ProBook laptops can be used for Internet browsing, document creation and editing, video conferencing, and more. Check out the laptops--and the Chromebooks--at the Flex-n-Gate Computer Center on the second floor or at the question desk on the ground floor. The Library provides free wireless access and a wireless printing service that allows you to print from anywhere in the Library.
The tablets are preloaded with fun, educational games and activities for children ages preschool and up and may be checked out at the question desk on the ground floor.
Tablets, laptops, and Chromebooks may be borrowed by patrons with a high school or adult library card in good standing. They are available on a first-come, first-served basis; they may be reserved if they are in use; and must be used inside the Library only. The devices check out for two hour and may be renewed up to 10 times, as long as no one else has them on hold.
For more information, contact the question desk (217-367-4069) or reference desk (217-367-4405).