Submitted by

Local History a...

on September 6, 2019 - 2:56pm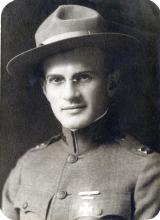 Sidney Cohen was born on June 26, 1885. The eldest son of Nathan and Addie Cohen, he was the only Cohen to not pursue a career in music. Instead, he studied law and spent time working first in his father's cigar factory then at a local bank.
In 1910, Sidney married Myrtle Conkwright and had two sons, Sydney and Nathanial. When the United States entered World War I, Sidney joined the Illinois National Guard. He served in the 100th Infantry, Company M, and obtained the rank of Captain. While stationed in Texas for training, Sidney contracted tuberculosis and missed going to France with his unit.
Unfortunately, Sidney never fully recovered and died April 1932 from tuberculosis. His body was brought back to Urbana and buried with military honors. He was survived by his two brothers, mother, wife, and two sons.
For more information about the Cohen family see our profiles on Nathan and Addie, Julius, and Sol.
- Matthew Mayton
  Archives Practicum Student