Submitted by

Local History a...

on May 1, 2015 - 11:00am
May 1st is a traditional spring holiday in many cultures. Often referred to as May Day, May 1st represents one of the most popular secular celebration days in the world.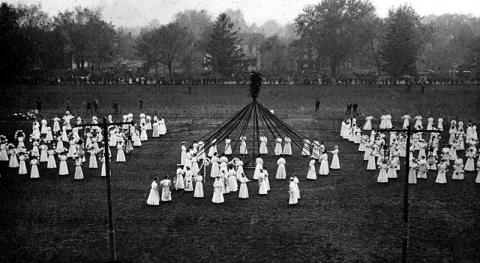 Maypole celebration at the University of Illinois, 1912
Why celebrate May Day? May 1st is an astronomical holiday. The date falls between the March equinox and the June solstice, two other astronomical holidays that have been celebrated since ancient times. Many cultures use May 1st to welcome summer, bring good luck to crops and livestock, and to celebrate friendship among neighbors.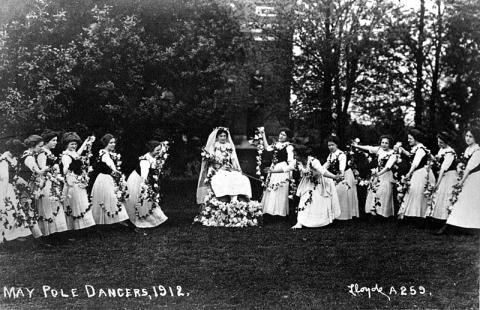 Maypole dancers crown a May Queen at the University of Illinois, 1912
In the United States, early European settlers used May Baskets—filled with freshly cut flowers—as treats to set on their neighbors' doorsteps to welcome the warm weather and fecundity of the summer months. Colleges and universities also celebrated May Day in the nineteenth and twentieth centuries—and some, like Bryn Mawr College and Washington College, still celebrate this festive time of year with maypoles, flowers, singing, dancing and the crowning of a May Queen.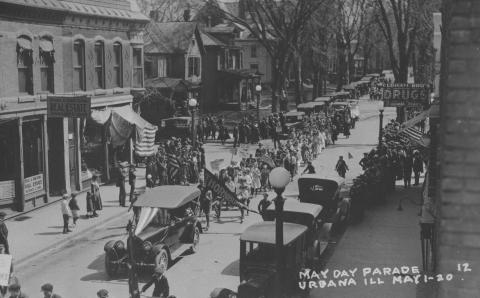 May Day Parade, Urbana, Illinois, 1920
May Day also marks International Worker's Day, which commemorates the Haymarket Affair in Chicago. Peaceful protests, demonstrations, rallies, parades and parties have often marked the occassion.
On May 1, 1920, demonstrators marched down South Race Street in Urbana in a May Day Parade. School children, teachers, laborers, farmers and other Champaign County citizens carried signs of protest expressing dissatisfaction with wages and high cost of living.
Donica M., Archives Assistant