Submitted by

Local History a...

on March 16, 2015 - 3:18pm
The Champaign County Historical Archives recently published a new digital collection, Champaign County Homes, 1838-1920, which contains photographs of homes that were constructed during the 1838-1920 time period. Whether your house was constructed during this time period or later, the Archives has many helpful resources to get you started researching the history of a property.
                                     (Scroll mouse over pictures to see captions)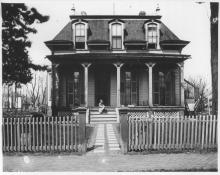 As with any topic, it is helpful to begin by searching Local History Online for your home's address. On Local History Online's homepage, type in your address using the format of the following example: Green St (Urbana), West, 210. After typing in the address, hit the Subject button below the search box. Search results may display a title abstract, building plans or permits, newspaper article title listings, photographs envelope or vertical files with information on that address and its former residents.
If the structure is a historic landmark, or an example of interesting architecture, the Archives may have copies of research articles by historic preservation students at the University of Illinois.  In addition, the Preservation and Conservation Association (PACA) has completed architectural surveys of selected areas of Urbana and Champaign and placed copies in the Archives.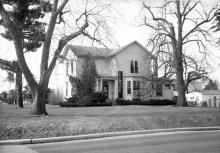 If no results are displayed by searching the street address, fret not! Many other resources can be consulted in order to discover information about the history of a particular tract of land or residential structure. Some collections relate only the history of the land itself, such as a title abstract, county deed records, grantee (buyer) and grantor (seller) indexes and plat maps. Other collections, such as city and county directories and biographical compilations contain information regarding former residents of the home. 
Whether you are searching for information on a property or a residence, the Champaign County Historical Archives is a great place to start. Below you will find some helpful collections available for research at the Archives. 
Collections to search for property history:
Aerial photographs
Champaign County maps
Plat maps
Sanborn Fire Insurance Maps
Title abstracts
United States Federal Census collection
Collections to search for house history:
Biographies 
Books on the history of Champaign County
Champaign County GIS Consortium's Interactive Public Map (for current information)
City directories
Court Deed records
Family files
Grantor and grantee indexes
Oral histories
Photograph envelopes by street address
Champaign County records:
Chancery Court cases
Probate and Estate cases
Will record books
As always, staff at the desk are happy to help with your research needs!
-Donica M.