Submitted by

Local History a...

on August 19, 2020 - 4:38pm
In 1895, Kuhn & Son organized a baseball team called the Clippers. Playing sixteen games, they won eleven, including a nine-game streak. Their first game was a doubleheader against Danville on the Fourth of July. Despite the luck they would have towards the end of their season, they lost both the doubleheader games.
In the Champaign Daily Gazette, Kuhn & Son promised that by the end of the season, they would "have for Champaign one of the best teams in the state." The majority of their losses came at the beginning of the year with a couple in August, but once the Clippers found their footing, they were a force to be reckoned with. In one of their first wins, the team handed Bloomington their first loss of the season, ending their 11-0 record. During this game, Bloomington's third baseman caught a ball with his nose, breaking it (his nose, not the ball), so they may have been at a slight disadvantage.
The Clippers found themselves in a rivalry with Nat Cohen's team, the Big Four. After a great deal of trash talking between the teams, things finally came to a head on August second. The game was held during the fair and drew a large crowd, despite the horse races being the main attraction. After having stated the previous day that "there will not be enough left of the Kuhn's for identification," Cohen was forced to eat his words. The Clippers beat the Big Four 26 to 12, ultimately defining who the better team was. At the end of the game, Cohen demanded his team to explain why they had lost, and the only explanation the Champaign Daily Gazette could come up with was that the Clippers were of a better class.
The Clippers closed out the season with another fantastic win, beating the LeRoy team 17 to 2. The game only lasted one hour and 45 minutes. They won the amateur baseball championship that year, with one local newspaper noting that "Kuhn & Son will put another team in the field next year and one composed of material that will make them like their clothing house, second to none in the state."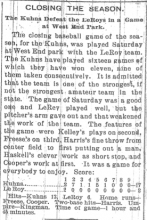 - Cassie Ward
  Archives Practicum Student