Submitted by

Local History a...

on February 26, 2021 - 4:00pm
Who is Robert Allerton? Many of us know him as a philanthropist, a wealthy bachelor, a world traveler, an art collector, and owner of what we know today as Allerton Park, a National Natural Landmark also recognized on the National Register of Historic Places.
Allerton was a private man. Much of what we know about him comes from correspondence saved in archives from those who knew him and what he allowed the public to see. This can make it hard to think of the mansion, gardens and surrounding woods as one gentleman's private home and estate, but up until 1946, Robert Allerton's estate, or "The Farm" as it was once known, was primarily for his enjoyment.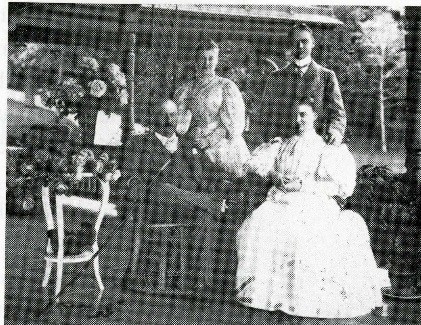 The Allerton family from Robert Allerton: The Private Man.
Robert Henry Allerton was born March 20, 1873 in Chicago, Illinois. He was the only son of Samuel Allerton, a self-made millionaire whose wealth primarily came from farming, banking, and related business enterprises. Robert's mother, Pamilla Allerton nee Thompson died five days before his seventh birthday after her and her children were stricken with Scarlet Fever. Robert and his sister both lost a great deal of their hearing as a result of the disease. Two years later, Samuel married Agnes Thompson, Pamilla's younger sister. Agnes and Robert developed a fond relationship of one another and she encouraged his interest in literature, music, gardening, and the visual arts, which he would carry with him through the entirety of his life.
When he was 19, Robert Allerton chose to forgo college and pursue an art education abroad. For several years he studied painting and sculpting in Paris and Munich. By the age of 24, Robert Allerton gave up hope of ever becoming an artist himself, and after dramatically burning all of his paintings, moved back to Chicago. Upon his return, he and his father struck a deal to have Robert manage the family land holdings in Illinois if Samuel Allerton would agree to give his son the money to build a house of 280 acres in Piatt County. With $50,000 in his pocket, Robert Allerton enlisted the help of John Borie, a young Philadelphian architect, and spent the winter of 1898 studying country houses and landscape gardens in England. After England, Allerton returned to the 12,000-acre estate in Monticello, Illinois to begin building the main attraction. The estate would become a model of production farming that attracted experts from around the world to study The Farm's techniques.
Allerton could have afforded well-known society architects, but chose to work with Borie, because it allowed him to work in collaboration with the young architect and exercise a greater influence in the design of the house. This way he was able to have his aesthetic vision realized. Emphasizing the appearance of the home had some pragmatic concerns, however. Construction of the Allerton House began the following summer. Allerton planned to live there only in the summer months, and several aspects had to be redesigned after initial construction when it was discovered that they were not compatible with Midwestern winters. By 1900, construction was more or less completed and Borie began developing the landscape.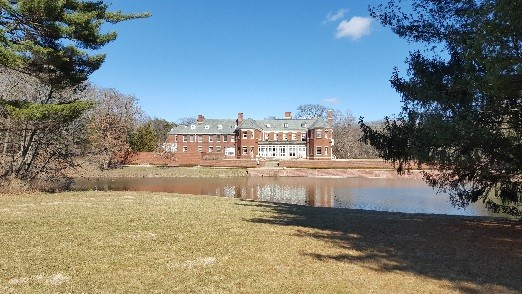 The Allerton Estate.
For nearly fifty years, from 1897 to 1946, Robert Allerton would continue to perfect his nearly 12,000 acre estate. Over the decades, the Allerton house would become a mix of several architecture styles, including: classical design such as Neo-Georgian, Jacobean, French eighteenth century; more modern trends such as art deco; and landscaping based on his fascination with Asian art and philosophy.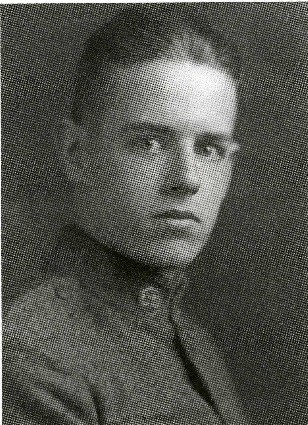 Young John Wyatt Gregg from Inside Allerton.
One of the greatest influences on the estate was John Wyatt Gregg. Allerton gained a lifelong partner in this enterprise in 1923, when he met the 23-year-old University of Illinois architecture student named John Wyatt Gregg at a Dad's Day-Theta Xsi fraternity dinner. After graduating, Gregg took a job in the architecture firm of David Adler, a friend of the Allerton's. Shortly after the Stock Market Crash in 1929, John Gregg was released from his employment at the firm, and Robert Allerton asked him to return to the Allerton Estate as an architect. Together, the men would refine and develop the series of sculpture and landscape gardens that visitors can still see today.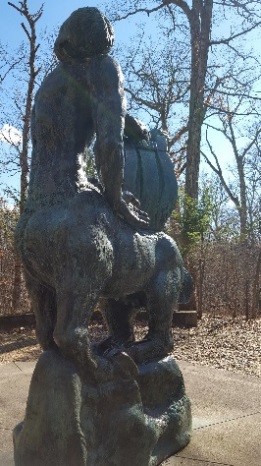 The Death of the Last Centaur, designed by Gregg.
Robert and John continually modified the rooms of the Allerton house to accommodate their changing needs and tastes: For example, most of the major rooms were eventually converted to contain more shelf space for Robert Allerton's expanding library.
While visiting Hawaii in 1935, the Allerton's discovered a 300 acre estate on the island of Kauai, Hawaii. They purchased the land, named Lawai-Kai, two years later, as a future winter home. In early 1941, during the advent of WWII, Allerton and Gregg decided to make this their permanent home, vastly preferring the climate of their island estate to the Midwest weather. Robert approached the University of Illinois Board of Trustees in 1941 about gifting the Illinois estate to the university to be used as a wildlife preserve and an example of landscape gardening. The Board of Trustees formally accepted his offer. When the war ended, Robert entered into negotiations to proceed with this gift. The contract was formally signed in October 1946 and ownership of the estate was now in the hands of the University of Illinois.
Robert Allerton died at the age of 92 on December 22, 1964 in Hawaii, but not before making his and John Gregg's relationship recognized on some level by the state of Illinois – Robert was able to adopt John in 1960 as a means of John Gregg inheriting Allerton's fortune and the bulk of his assets once the older man passed away.
-Leslie Straus
Former Archives Intern
---
Inside Allerton : the essential guide to Robert Allerton Park by David L. Finnigan
Majestic Allerton : the story of the creation of an oasis on the prairie by Kay J. Bock
Robert Allerton : the private man & the public gifts by Martha Burgin and Maureen Holtz with new photography by Michael Holtz
Allerton Park (Piatt Co.), Local History Ephemera, Champaign County Historical Archives, The Urbana Free Library, Urbana, Illinois