Submitted by

Local History a...

on March 30, 2019 - 3:27pm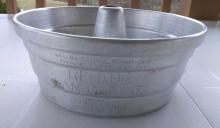 On March 29, 1940, Jackson Luker of Urbana, IL filed an application at the United States Patent Office for his angel food cake package called Pan-O-Cake. His patent claimed that the way the cakes were shipped and packaged uniquely protected the angel food cakes so that they could be transported and kept for multiple weeks without damaging the air cells within the cake. He was granted the patent in 1942. 
Luker discovered that his cakes could be kept for extended periods of time in 1939 when a Kroger grocery store opened and started selling angel food cakes for well under what he could afford. Luker was so upset he left his cakes in their pans and did not return to them until after the sale was over. Luker found his cakes still in fresh condition and realized he could sell his cakes by mail as well as from his store front, which was located at 114 West Main Street Urbana. 
Luker's method was wildly successful and by 1947 he was selling 400,000 cakes a year and it was noted that he could have sold more if resources were not restricted due to World War II. Luker had truck routes covering Illinois, Indiana, and Iowa and kept detailed logs of each shipment. His shipping logs can be found in the recently processed Luker's Pan-O-Cake Records.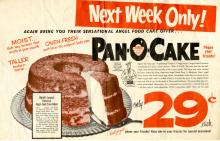 It is unclear what the cakes regularly sold for, but in the advertisement pictured they were on sale for 29¢. The advertisement also describes the recipe as calling for thirteen eggs, while a typical angel food cake only contains twelve. According to Tom Luker, Jackson Luker's son, the original recipe has been lost to time. 
- Cassie Ward
  Archives Volunteer
[Editor's note: Jackson Luker was quite a colorful public figure in Urbana. When he ran unsuccessfully for mayor in 1949 he was referred to as 'the belligerent baker.' If you are interested in learning more about Luker I highly recommend reading some of the articles published in the Urbana Courier.]