Submitted by

Local History a...

on August 1, 2020 - 5:45pm
Sometimes, weird things happen in life. If it is funny enough, it might be featured in the news. Here in Champaign County, a lot of things have happened that were considered newsworthy. One individual who would know about this is Oliver Sayles. Back in the sixties, Mr. Sayles was the victim of a rather quirky series of events.
As the Champaign-Urbana Courier reported on May 4, 1965, Mr. Sayles was ruthlessly bothered by a squirrel. The article, titled "Squirrel Chases Man," tells the story of how Mr. Sayles called the Champaign police to "complain of a squirrel which chases him daily."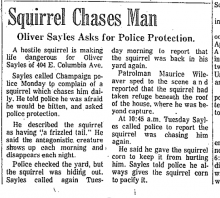 The moral of the story is, when being chased by a squirrel, make sure that you have a lot of corn if you want things to stay peaceful.
- Shalini Smith
  Archives Assistant