Submitted by

Adult Services

on January 12, 2017 - 9:00am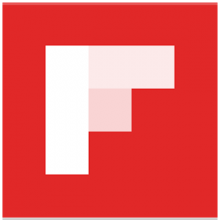 Have you experienced Flipboard? It's an app that acts as your personal source for news and information. Let me explain:  you chose which categories interest you most, like American politics, children's literature, and space travel, and Flipboard sends you articles from a myriad of publications that match your interests. And it's not like they're obscure publications from disreputable sources; they cover the biggies like NYT or the Washington Post as well as more focused publications.
For example, these are a few articles that I've been sent recently: 
The 13 Badass Illustrators You Should Be Following on Instagram by Francis Cannon for Nylon features, you guessed it, some pretty awesome illustrators from all over the world that you can follow on Instagram. The articles shows examples of their work and gives a brief bio of each artist.
33 Science Fiction and Fantasy Books that Everyone Will Be Talking About in 2017 by Andrew Liptak for The Verge gives the publication dates for 33 highly anticipated Sci-Fi & Fantasy novels that will be coming out this year. The article goes month by month and gives a brief synopsis of the books.
10 Outstanding Short Stories to Read in 2017 by Pravesh Bhardwaj for Longreads compiles the author's favorite short stories that she has read in 2016. The list is filled with stories that are all available for free online, so you only have to click a link to read the full story.
enp