Submitted by

Local History a...

on October 5, 2019 - 11:01am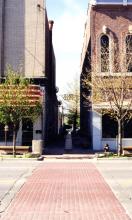 If you've spent much time walking the streets of downtown Urbana, you might have noticed that there are a few alleys with their names displayed. Crane Alley is well known not only because of the restaurant of the same name, but also due to ornate wrought iron arches at each end. There is an arch for Cherry Alley featured prominently in the landscaped walkway outside the Urbana Free Library. Lastly, there is also an iron arch with the name Fish Alley located on Race Street, between Main and Elm. You may have asked yourself: What is the story behind these alleys? Where do they get their names? These are the kinds of questions you can ask us in the Archives!
The answer to the first question is that these alleys are among the oldest alleys in Urbana. The town was established on 43 acres of land donated by three of the largest land-holding families in the area: Isaac and Sarah Busey, Matthew W. Busey, and Thompson R. Webber on behalf of his father, William T. Webber. The first plat map of Urbana was recorded on October 19, 1833. It consisted of eight streets, six alleys, and a central public square. The original streets were Water, Main, Elm, Green, Vine, Walnut, Market (which is now Broadway Avenue), and Race. The original alleys were Goose, Fish, Cherry, Grape, Thorn, and Crane.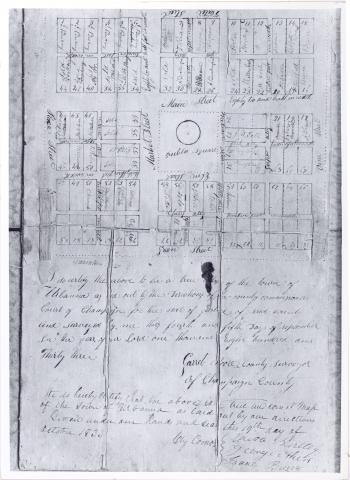 At least some portion of these alleys still exist today except for Grape. A portion of Goose Alley extends west from Broadway, which is marked by a street name sign. Thorn Alley, now spelled "Thorne" connects California and Oregon between Broadway and Walnut. It does not have any signage.
As for the origins of the names of the alleys, we weren't able to find such information on any maps or even history books in our collection. We did find an article from the Courier newspaper from 1967 about how Goose Alley got its name. It says that two Champaign County brothers, Wayne and Harry Newman, recalled their mother telling them that "years and years ago, farmers brought chickens and other poultry to a market" near Race Street. "They didn't crate them at all then," Harry Newman said, "but drove them along instead, and when they drove geese into town, they went up that alley." If this story is true, it's possible that some of the other names are related to goods that were sold at the market.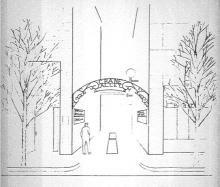 We uncovered the origin of the wrought iron arches that display the names of Crane and Fish. In meeting minutes for the Urbana Business District Development and Redevelopment Commission July 1985, there is discussion about their design, materials, and installation. Creative Iron of Danville was the company hired to build them. To the right is a rendering of the proposed design that was attached to the minutes.
The Cherry Alley Arch has a different origin, however. It was a gift from The Urbana Free Library Foundation and was installed in 2005.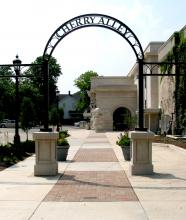 In conclusion, there are a lot of answers waiting to be discovered within our collection. You can ask questions by phone, email, or by visiting in person. It's likely you will find that walking the streets of Champaign County is a new experience once you've explored the Archives and learned a thing or two about our local history.
-Erica S.
Archives Assistant
Sources:
Urbana by Ilona Matkovszki and Dennis Roberts, Images of America series
Courier, August 8, 1967
Minutes for Business District Development and Redevelopment Commission meetings
This blog post was inspired by a reference question we received in the Archives. Do you have a question to ask an Archivist? Let us know.