Submitted by

Local History a...

on December 6, 2019 - 3:50pm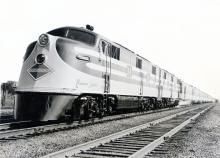 The Illinois Central Railroad Company (ICRR), known as the Main Line of the Mid-West, was one of the oldest Class I railroads in the United States. First conceived by the Illinois General Assembly in the 1830s, ICRR became the first land grant railroad in the United States through the passage of Senator Stephen A. Douglass's Federal Land Grant Act of 1850.
The Illinois General Assembly chartered the railroad on February 10, 1851. Its first trains would not be operational until 1853. Initially, ICRR had two north-south lines. The original mainline went from Cairo to Galena since Galena was the major industrial center in Illinois. The branch line diverted at Centralia and traveled northeast to Chicago, which would later become its mainline with the growth of Chicago. Upon its completion in 1856, ICRR was the longest railroad in the United States, with its 706 miles of track all contained in Illinois. It was the largest building project of its time with 10,000 workers laying track at any one time and an estimated 100,000 workers who worked on the rails over the five-year construction period.
Early in its life, ICRR looked to expand its operation. With its original charter prohibiting it from building in other states, ICRR launched a steamboat service that traveled down the Mississippi River from Cairo to New Orleans in 1856. After helping the Union in the Civil War with transporting troops and supplies, ICRR began buying existing railroad companies to expand its operation. It first expanded to Sioux City, Iowa in 1867 and continued to acquire lines in southern states. By 1882, ICRR had expanded as far south as Mississippi and operated its mainline from Chicago to New Orleans. In the 1880s, ICRR also expanded into northern states such as South Dakota, Nebraska, and Wisconsin. At its height, the railroad operated over ten thousand miles of freight and passenger lines in fourteen states, becoming the most prominent north-south lines in the United States.
The company's growth was not sustainable. It narrowly avoided bankruptcy during the Great Depression. After World War II, ICRR saw a decline in business so it diversified its holdings to stay profitable. In 1962, ICRR developed its holding company, Illinois Central Industries, and began selling off its passenger lines. By 1971, all the passenger lines were sold off, with the majority acquired by Amtrak. On August 10, 1972, ICRR and the Gulf, Mobile, & Ohio Railroad merged to form the Illinois Central Gulf Railroad (ICG). It sold off most of its east-west lines and redundant north-south lines to other railroad companies in the 1980s to focus primarily on its Chicago-New Orleans line. By 1988, its holding company, Illinois Central Industries, sold the ICG to the New York Prospect Group. It would drop the "Gulf" from its name and became the Illinois Central Railroad once again. It would operate independently until 1998 when Canadian National Railways acquired ICRR for $2.4 billion. By 2001, ICRR was fully absorbed by the Canadian National.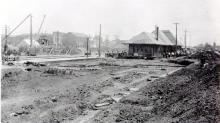 While the Illinois Central Railroad is no longer in operation, its impact on the development of Champaign County and Illinois cannot be ignored. The railroad created dozens of towns along its original lines. Towns such as Rantoul, Buckley, Loda, Paxton, Tolono, Tuscola, Mattoon, and Champaign were all founded due to ICRR. The railroad also brought many European immigrants to Illinois, expanding the population of numerous communities. This expanding population transformed Illinois from a grand prairie to one of the United States' agricultural centers. ICRR helped bring the University of Illinois to Champaign-Urbana. In 1867, the railroad offered Illinois $50,000 in free freight if it would locate the university along its line. This led to a close relationship between the university and the railroad. The College of Engineering's railroad program worked closely with ICRR in the early 1900s. The company donated a steam engine to the college's program for over twenty years. The railroad was crucial to the building of Memorial Stadium and built a rail line to service its construction. ICRR located several divisional headquarters throughout Illinois. One of these headquarters was in Champaign. It employed 1,500 people at its height and led to various construction projects which employed dozens more. Many of these structures were either torn down or converted into restaurants and other businesses.
The Champaign County Historical Archives is proud to house the Illinois Central Railroad Co. Records. These records consist of completion reports from various railroad construction and improvement projects in Champaign County and East-Central Illinois. These reports contain expenditure and retirement forms, correspondence pertaining to the projects, estimates, blueprints, and plans. It also contains high water level data on various tracks and oil spill containment plans to reduce pollution.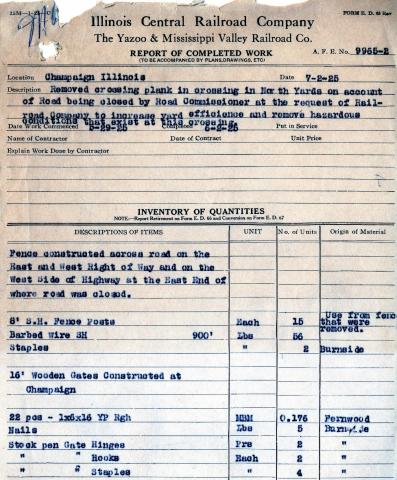 Above is an example of a "Report of Completed Work" forms found within a project completion report. Information found on the form includes:
A.F.E. (Authority for Expenditure) No: 9965-2
Location: Champaign, Illinois
Date (report was written/typed): 7-2-25
Description (of the project): Removed crossing plank in crossing in North Yards on account of Road being closed by Road Commissioner at the request of Railroad Company to increase yard efficience and remove hazardous conditions that exist at this crossing.
Date Work Commenced: 5-29-25
Completed (date): 6-2-25
This form also includes the description of items purchased, unit of a single item, the number of units purchased, and the origins of the materials. This report also contains a list of properties retired, estimated cost for the project, blueprints, and surveys of the area, handwritten calculations, and correspondence authorizing the project.
- Matthew Mayton
  Archives Practicum Student