Submitted by

Adult Services

on December 26, 2017 - 11:52am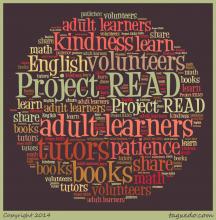 When you talk to people who do volunteer work in the community it's common to hear someone say, "I got into volunteering to help others, but it's ended up helping me as much as them!"  Finding ways to give back to the community can add meaning to our lives and is often a great way to meet new people and learn new things. 
If you're looking for a volunteer opportunity in the new year, Project READ might be for you.   Project READ tutors help adults who are learning English or who are working to improve their math and reading skills.  The Library is partnering with Project READ to host training and support for those who want to become volunteer tutors on Monday, January 22 and Monday, January 29 from 9:30 - 11:30 a.m.  Then, beginning in February, we'll have drop-in sessions for people who want help with their studies; they will be able to come to the Library to work with a tutor on Mondays in February and early March.
There are some great positive aspects to Project READ: 
It's flexible.  If you want to work regularly with one student, they will help you get connected.  If you have a busy schedule and want to help with drop-in sessions that don't require consistent attendance, that's easy to do also.
You'll meet interesting people.  Tutoring gives you a chance to work with people from other backgrounds and experiences who you might not otherwise have a chance to meet.
It's a great feeling to support motivated adults who are using education to better their lives and reach their goals. 
Consider joining us for training (January 22 and January 29) and for our drop-in sessions throughout February and early March.  You can use this link to learn more about other locations that are also working with Project READ or more about what the training entails.  You can also contact Carol at 367-4405 or cinskeep@urbanafree.org to get more information about the Library's training and tutor sessions. 
~ cpi