Submitted by

Teen Services

on May 11, 2016 - 12:30pm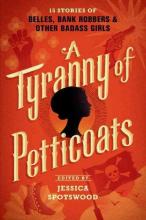 This one's a tough sell:  historical fiction* about some formidable teenage girls written by some formidable female authors like Marissa Meyer, Marie Lu, and Beth Revis. If you're unaware...that was sarcasm. Because *of course* you'd be *all over* a collection of short stories about teenage girls who *also* happen to be pirates in colonial New England and bank robbers in 1930s Indiana and saloon owners in 1890s Alaska. I could go on...and use more astericks...
In fact, I *will*:  A Tyranny of Petticoats:  15 Stories of Belles, Bank Robbers & Other Badass Girls is a great collection featuring stories of adventure, of romance, of the supernatural, of gritty realism…the common thread is that they each highlight the life of a young woman during a different time and place in American history. The stories show the diversity of the melting pot of America, too, with characters who are African American, Mexican American, Chinese American, Native American, and more.
My favorite story is "El Destinos" by Leslye Walton, a story about the Three Fates from Greek mythology, sisters who control the life and death of every person by creating and cutting the threads of life. They are reincarnated into three young Mexican American girls in 1840s Texas. The story is told from the point of view of the middle sister, who doesn't fit into their new life as well as her siblings.
My second favorite story is "High Stakes" by Andrea Cremer, set in 1860s Boston. The story follows Klio (pronounce it like Cleo), a 16-year-old supernatural assassin who is enlisted to work as a body guard for a wizard. With the Civil War looming, rival supernatural factions are fighting for control of the country's future. Klio and her partner, Whitby, a free Black man and djinn (genie), don't have much interest in power and politics. But a job is a job, so they set out to protect their employer from the likes of werewolves, vampires, sidhe (faeries), goblins, and necromancers. Klio is nothing if not a professional, but something about this job just doesn't feel right…
Check this out today to read these stories and more!
ep
*what makes something "historical fiction" instead of just "fiction?" Historical fiction is anything set 60 years or more before the time it was written during a time period that the author did not live through.