Submitted by

Adult Services

on January 20, 2017 - 1:46pm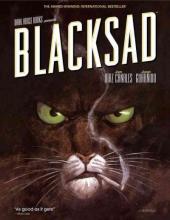 Let me tell you about Blacksad:  this graphic novel has something for everyone. Do you love comics? This series is beautifully illustrated by two amazingly talented Spanish artists. Do you love noir? This series features Blacksad, a private detective with a penchant for getting into trouble. Do you love 1950s America? This series is set in that iconic time period and features many American cities, from L.A. to New Orleans to Amarillo, Texas, with a strong influence of the music from that era. Do you love to explore award-winning international bestsellers? This series is published in French before being translated into Spanish and English, and it has won the Angoulême International Comics Festival Prize for Artwork and two Eisner Awards. Do you love anthropomorphism? This series features characters who are animals, from Blacksad the black cat, to Commissioner Smirnov the German shepherd, to Weekly the weasel. All the characters are humanoid animals, and the story is somehow much more engaging for it.
And the best part of Blacksad? The Library recently acquired the latest English-language installment, titled Amarillo. There are a few more installments that haven't been translated from French yet, so keep your eye out for those, too!
-Elisabeth