Submitted by

Local History a...

on May 18, 2019 - 3:21pm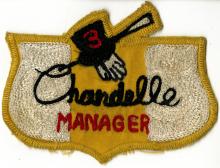 Sergeant Joseph C. Gomez was the manager of the Chandelle Non-Commissioned Officers (NCO) Club at Chanute Air Force Base in the 1950s. As the manager of the Chandelle, he was responsible for operating one of the premiere night spots for young Chanuters to gather and party at the base. The Chandelle offered nightly concerts with a sunken dance floor and full-service bar. They even permitted gambling and offered slot-machines for a period. The December 1957 Chandelle calendar from our files reveals a month filled with different event that included regular and special dinners, game nights, and lots of music from live acts. The Chandelle also offered a barbershop, a la carte meals, and pizza pie pickup and delivery. They kept late hours: open until midnight Monday-Thursday, 1am on Friday, and 2am on Saturday. 
In these photos we see Gomez interacting with different guests at the Chandelle. In the group photo, Gomez identified the bow tied gentleman to his right as a very popular dance partner in the club, and the young woman as the bookkeeper at Chanute and came from England. The ballroom displayed on the postcard shows the layout of the Chandelle and location of its two bars. Despite the limited information on Gomez and few photographs that remain, these records provide a unique perspective of the base. Leisure, relaxation, and socializing were essential to base personnel who dealt with the daily stresses of a military life.
- Tom Kuipers
  Archives Intern