Submitted by

Local History a...

on April 17, 2019 - 10:36am
Charles Van Doren died this month at the age of 93. Known for his participation and eventual guilty plea in the quiz shows scandals of the 1950s what made Van Doren's rise and eventual fall spectacular was his background. His obituary in The New York Times puts it this way:
In the heyday of quiz shows in the 1950s, when scholarly housewives and walking encyclopedia nerds battled on "The $64,000 Question" and "Tic-Tac-Dough," Mr. Van Doren was a rare specimen: a handsome, personable young intellectual with solid academic credentials, a faculty post at a prestigious university and an impressive family pedigree.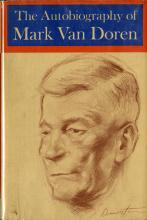 His father was Mark Van Doren, a Pulitzer Prize winning poet, literary critic, and professor of English at Columbia who had spent his formative years in Urbana, IL graduating from Urbana High School and receiving both his bachelor's and master's degrees from the University of Illinois. Van Doren's mother, Dorothy Van Doren, was a novelist and editor and his uncle, Carl Van Doren, was a professor of literature, a historian, and a Pulitzer Prize-winning biographer.
The Van Doren family moved to Urbana in 1900 from Hope, IL in western Vermilion County. Dr. Charles Van Doren and Dora Anne Butz Van Doran moved their family of five sons to take advantage of the local schools including the University of Illinois. Mark Van Doren remembers his childhood and college years fondly and writes extensively about his time in Urbana in his autobiography, The Autobiography of Mark Van Doren.
A profile on Mark Van Doren and his autobiography published in the News-Gazette (October 22, 1958) describes the 371-page volumes as being well indexed complete with names and places and a "must buy [not only] for those whose names are mentioned, but for those interested in early history (1900-1915) in Champaign-Urbana and about the University of Illinois." His autobiography also connects his poems to his memories "vividly [relating] how his poems came about, and injects them along with the story of going here and there, and experiencing this and that event."
Mark Van Doren left Urbana in 1915 to follow his brother Carl to Columbia University. In 1920, he received his Ph.D. and began teaching at Columbia. Originally, expected to be a temporary engagement he found joy in his teaching and continued until his retirement in 1959. According to his obituary in The New York Times his other great joys included reading "late into the night," or "argu[ing], convers[ing] and compar[ing] notes with his two sons, Charles and John, almost until dawn."
Charles also taught at Columbia and father and son shared an office. In 1959, when the quiz show scandal broke Mark Van Doren was asked if he was disappointed in his son. He replied that that he was proud of him. When pressed if he was proud of his conduct on the show, he said: "No, naturally, the revelation was very painful to us."  
Charles Van Doren recounts in a New Yorker article in 2008 that after the scandal his father gave him a "gyroscope with a quotation from Shakespeare's "Twelfth Night" by the character Feste, a clown wise enough to play the fool and tell the truth. I knew he was saying that I, too, would survive and somehow find a way back." 
- Sherrie B.
  Archives Librarian