Submitted by

Local History a...

on March 16, 2019 - 3:26pm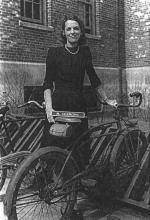 Mary Ruth Clemons (1910-1992) was born in Marion, Illinois on February 18, 1910 to John Robert and Edith Caroline Grant Crenshaw. In the 1920s, Clemons attended Marion Township High School. Following high school, she enrolled in Browns' Business College in Marion, Illinois. Browns' was a chain of schools founded by George W. Brown in the 1870s that focused on specialized office jobs, such as bookkeeping, stenography, cashier work, and clerkship. During their 10-month school year, Clemons rigorously trained in bookkeeping, commercial arithmetic, writing, commercial law, business correspondence, spelling, shorthand, typewriting, indexing and filing in preparation for a secretarial career.
Following graduation, Clemons took a position as the secretary to the Commanding Officer of Chanute Field, Major Leo, G. Heffernan, on April 22, 1929. Two years later, she married Air Force veteran of World War I Ray C. Clemons. On September 30, 1931, she left her post at Chanute and travelled the world with Ray, visiting China and living in the Philippines and Hawaii before returning to Chanute in 1940. Upon their return, Clemons retook her position as secretary to the base commander under Brigadier General Davenport E. Johnson, while her husband returned to the theater of war, fighting in World War II. Mary did not leave her post again until retirement in 1970. From 1929-1970 Mary performed her duties admirably under 17 different commanding officers at Chanute, something many claimed to be an Air Force record.
On January 22nd, 1970, Clemons was presented the Medal for Meritorious Civilian Service after 33 years of dedication and hard work at Chanute Air Force Base. The award was given to her by base commander General J.B. Knapp on behalf of Air Training Command Commander Lt. General Sam Maddux Jr. According to Knapp, "Mrs. Clemons consistently maintained a standard of excellence in the performance of her duties that has earned the high praise of numerous commanders. Her dedication to duty, poise, and cheerful attitude have been an inspiration and example to all. Her unparalleled knowledge of the center has been an invaluable asset to the commanders she has served. Mrs. Clemons' outstanding devotion and accomplishment reflect the highest credit upon herself and the civilian employees of the United States Air Force."
- Thomas Kuipers
  Archives Intern