Submitted by

Children's Services

on March 6, 2019 - 9:00am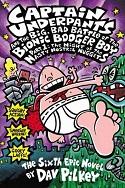 This March we are celebrating the 53rd birthday of the master of comedy and courage, Dav Pilkey. The inspiration he has given to children through both his writings and drawings is astronomical. Many children have fond memories of Captain Underpants and his wacky school adventures, of Ricky and his robot, of bunnies, and cavemen, and so much more. Pilkey has inspired a generation of graphic artists and storytellers through his works, sending waves of encouragement and determination across the pages and out into the world. 
Dav Pilkey has always been a funny, determined, guy ever since his birth on March 4th, 1966. As a child he spent his time drawing comics and bringing laughs, despite teachers telling him to give up on his dreams. Pilkey chose not to listen to them and instead kept drawing. One professor in college noticed his creative talent and encouraged Pilkey to apply to The National Written and Illustrated by… Awards Contest. When Dav Piley won his book was published and thus began the start of his career, and the beginning of many adventures. Nowadays Pilkey lives with his wife and dog out in the wilds of Oregon, writing even more books for all of us to enjoy. So, this March help us celebrate the 53rd birthday of this master of children's literature and grab a copy of Dog Man or Captain Underpants today.