Submitted by

Children's Services

on February 20, 2019 - 9:00am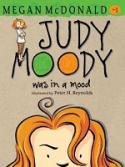 In the mood for a good book? Well, this February we are celebrating the 60th birthday of Megan McDonald, famed author of the book series Judy Moody. Many of us are already familiar with the zany antics and many moods of Judy Moody, but McDonald has quite a few moods of her own. As the youngest of five siblings McDonald has talked about the importance of finding your own voice, whether that be through speaking or writing. Currently she lives inside her own imagination, creating new ideas and connecting with her inner child.
     As an actual child Megan grew up in Pittsburgh, surrounded by stories from her family. Every night her parents, four sisters, and Megan herself would share tales over the dinner table. Being the youngest made it a bit difficult for Megan to speak up and share her ideas, so her mother gave her a journal beginning Megan's career as a writer. In college Megan learned how to write for children before going on to earn her masters in Library Science. She has worked as a storyteller, a park ranger, and a librarian before becoming inspired by patrons to publish her own children's book. Since then she has written a number of children's series including Judy Moody, The Sisters Club, and American Girls, and is still writing strong. So, this February decide which book you're in the mood for and help us celebrate Megan McDonald's 60th birthday.