Submitted by

Teen Services

on February 10, 2019 - 10:15am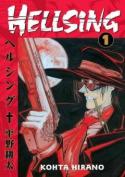 Have you ever wished you were part of a secret gang to protect innocent civilians from vampires, ghouls, and other supernatural enemies? I know I always have!
Hellsing is a secret government organization within England whose mission is to protect the country and the Queen by fighting the evil supernatural forces who threaten it. It's led by the guardians Integra Wingates Hellsing, who inherited the throne from her father after he died when she was a child, and Alucard, a very powerful, very old, vampire. Working with Integra and Alucard to fight supernatural forces are the mysterious assassin butler, Walter, Alucard's vampire minion, Seras Victoria, and Integra's personal army. When attacks of the undead begin to escalate, the guardians work to discover a group of madmen who call themselves Millennium, intent on reviving Nazi Germany through the use of a vampire army. This leads to an epic apocalyptic battle between Millennium, Hellsing, and a rival secret organization of the Vatican.
So, if you love vampires as much as I do (and that's a lot) you should definitely check this out. Alucard is kind of my new obsession and I love the dynamic between him and Integra. Warning, this series can get pretty dark and gory, but it also does a good job of balancing that out with silliness and clever humor.
-Rachel B.