Submitted by

Children's Services

on January 23, 2019 - 9:00am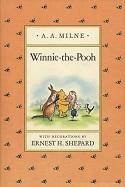 This month we are honoring the memory of author A. A. Milne, the man who brought us our fuzzy little friend all stuffed with fluff, Winnie the Pooh. Whether it be by book or film I think most of us have fond memories of adventures with Winnie the Pooh, Christopher Robin, and all their friends in the Hundred Acre Woods. While there are plenty of books about the origins of Pooh and friends, Finding Winnie by Lindsay Mattick is a personal favorite of mine, the author himself seems to be overlooked in favor of his son and inspiration, Christopher Robin.
Alan Alexander Milne was born in the distant year of 1882 in the far off reaches of the city of London. Milne was a writer from his early years, eventually going on to edit and write for a student magazine. He then moved onto working for the popular literary magazine Punch producing a variety of essays and poems until the War. Milne served in France for part of World War One and eventually left the military in 1919 to produce some of his short plays. It is around this time that he began to write stories for his son, with very few surviving to this day. It is thanks to the charm of these stories, and the original illustrations by Ernest Shepard, that led to the eventual popularity of Winnie the Pooh. So, this January we are celebrating 136 years of A. A. Milne and the continuation of the childish wonder his characters have created.