Submitted by

Teen Services

on January 13, 2019 - 3:25pm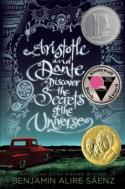 Aristotle and Dante Discover the Secrets of the Universe by Benjamin Alire Sáenz takes place in the late 80's in El Paso, Texas. Aristotle "Ari" Mendoza, an emotional, quiet, and confused 15 year old dealing with the emotional impact of his brother in prison, meets Dante Quintana, a passionate, expressive, swimmer at a local pool. Unable to swim, Dante begins giving Ari swimming lessons and introduces him to the art of poetry and literature. Told from Ari's point of view, the novel explores the close relationship that develops between him and Dante over the span of two years, as well as their struggle with cultural identity, sexuality, family life, loneliness and isolation. Without a complex narrative plot, the author tells a coming of age story that feels real and powerful in it's simplicity.
Oh man, this book is good. Like, really good. It's emotional depth and poetic prose is captivating and addicting and you won't want to put this one down. This is the type of book that stays with you because of your love for the characters and the overall mood that it evokes in you. There's also a sequel that should be coming out soon! You'll definitely be wishing for one the way this one ends, trust me.
This is also a great read if you wish to transport yourself to hot, sunny Texas during the coldest and bleakest weather that is the middle of winter in Illinois. 
-Rachel B.